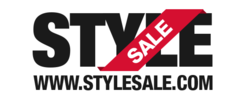 At StyleSale.com, our mission is to help our visitors get all their shopping done in one place and provide real satisfaction so they keep coming back to shop designer items at excellent prices.
(PRWEB) May 03, 2013
Barely a month after its launch, http://www.StyleSale.com is quickly becoming the excellent one stop shopping destination for anyone interested in fashion. Shop designer clothes easily thanks to the filters that help visitors find the product they need plus an extensive catalog of top brands. StyleSale.com is the right website for everything from the trendiest clothes and accessories to beauty products and home decoration. Shop designer shoes from the biggest names in the business.
Featuring everything from trendy dresses and shoes to the latest fashion trends for any modern man's wardrobe, StyleSale.com aims to provide the best online shopping experience with excellent offers that can make for great savings. Shop designer handbags and other fashion must-haves of each season.
A one stop shopping destination which features the most important names in fashion, StyleSale.com includes full collections and the best beauty products from top brands like Nike, Lancôme, Adidas, Dolce & Gabbana, Shisheido, Under Armour Ralph Lauren and many, many more.
StyleSale.com is different from other similar sites thanks to the excellent way in which it offers products from many other online shops, combining the all best offers in one place, with sale prices for designer items. Shop designer clothes, shoes and handbags quickly and efficiently.
In the clothing section of StyleSale.com, visitors can find everything from denim to swimwear. Simply click on "Tops" and find the best fashion forward or budget conscious tops for daytime wear, for more elegant outfits and for special occasions. Using the excellent search engine provided by StyleSale.com, visitors can choose their items by price range, by brand and even by color!
Expanding any shoe collection with the best prices, the "Shoes" section of StyleSale.com offers everything from athletic to evening shoes. Choosing from the huge selection of boots, sandals, flats, wedges and more is simple, when you're also using the StyleSale blog, which helps you decide what to buy and how to wear it. Shop designer handbags and transform your looks with the wide selection on StyleSale.com, from purses for casual, chic and formal occasions, to clutches, wallets and backpacks.
StyleSale.com can also be the best one one stop shopping destination for fashion-wise men, offering everything from suits and swimwear to watches and grooming tools, some with great discounts. Shop designer shoes and other hot accessories at the best prices.
StyleSale.com was founded in 2013 and it's already on the way of becoming the one stop shopping destination for everything fashion, from designer clothes to interior design. The platform focuses on their visitors having access to all the latest trends in the fashion industry, thanks to an inventory that consists of various well-known designers and brands for clothes, shoes, handbags, fragrances, cosmetics, swimwear, jewelry, glasses, and much more. The StyleSale.com mission is to provide all the fashion needs of their customers, which allows them to shop for all trendy items at one location.