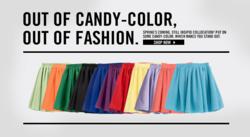 If a deal sounds too good to be true, it probably is a scam.
New York, NY (PRWEB) May 30, 2013
Online shopping is becoming a necessity for those who are living busy lifestyles, however, it is undeniable that online shopping also provides the chances for online fraudsters, and these online fraudsters have tricks of their own. With a few years of online sales experience, the OASAP Tech Team has accumulated a lot of skills to help the buyers to avoid online scams and frauds.
"Firstly, to know the website. Make sure you find out some keywords on the page, such as 'Go Daddy Secure Certification Authority' from the site URL, and 'Trustwave' at the bottom of the page, these are authorized by some professional websites. By the way, Alexa rank and Google Page Rank of the website also carry high credibility", OASAP Tech Team Manager, Mr. Carlson said.
"Secondly, Google the website name or the brand name. Do remember that Google is your reliable friend. You'd better to know the site's reputation and do an online research via Google, Bing or some other search engines before the purchase; it will tell you the truth about the target site. For example, when you Google the keyword of 'OASAP', you will find there are thousands of articles from worldwide publishers and recommendations from global fashion blogs, it means that OASAP brand has been tested and approved by a lot of fashion lovers."
"Thirdly, to check the return and exchange policies. The information should be available on legitimate sellers' websites. Make sure you understand the shipping methods and costs, methods of payments, and the process and fees involved in returning a product. On Oasap.com, buyers are allowed to reach the page of 'Return and Exchange' at any time".
"Fourthly, keep in touch with the seller. It's better to get contact information before you make an online purchase. As an online supplier, Oasap.com communicates with the consumers by LIVE CHAT, so all of the consumers can get help from the OASAP Customer Service Team at any time. We suggest the consumers always keep in touch with the sellers by LIVE CHAT, E-MAIL or some social networks."
"And fifthly, do not believe pennies from heaven. If a deal sounds too good to be true, it probably could be a scam," Mr. Carlson declared with emphasis, "For example, when a seller claims to have a piece of 2013 new style women dress (normally about $120 on Oasap.com) for $9, then it may be a fake. In fact, we've met this kind of case recently."
"Above all, do trust your instincts when you are shopping online!" Mr. Carlson concluded, "And you can contact us for suggestions if you have any questions about online scams and frauds in future, we'd like to help you out of the doubts."
ABOUT US
OASAP IS: A High-street Fashion Online store
OASAP Likes to: Deliver fashion & love!
OASAP is a global online store dedicated to high-street women fashion by offering various kinds of women's apparel, bags, shoes, jewelers, accessories, beauty products, etc.
OASAP was founded in late 2011, and has already grown to the leader of high fashion online stores. We keep updating products at a high rate every day. Now we update more than 600 new products each week. Those products mentioned definitely belong to the latest fashion trend.
OASAP's mission is to make you closer to the planet's most cutting-edge fashion, no matter where you are or what class or age group you are in. Pursuing fashion is the right of every woman.