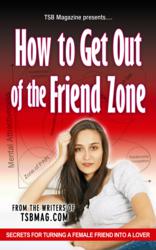 Just because a guy is making his interest clear, whether with his words or through body language, it ultimately doesn't mean a thing
Hoboken, NJ (PRWEB) May 01, 2013
There is a very fine line between showing interest and appearing desperate, but the man who learns to walk that line will forever avoid landing himself in the dreaded friend zone, says Professional Dating Coach Bobby Rio in his new report.
"The surest way to prevent a fatal slide into the dreaded zone is to cut it off at the pass," Rio says. "Guys who want to avoid becoming a hot new girl's best buddy need to make sure from the first interaction they have with a girl, they establish the fact that they want her for more than a friend. By doing this, girls have no doubt whatsoever why a guy is talking to her."
Some guys, however, worry that by expressing this type of interest up front, they are giving away their hand, but this is not a problem, Rio says in his report on avoiding the dreaded friend zone.
"Just because a guy is making his interest clear, whether with his words or through body language, it ultimately doesn't mean a thing," Rio says. "All the guy is saying is that he is a hot-blooded male and she is a female and that it is natural to look at one another for purposes other than friendship. When it is viewed this way, it is actually sexy to the girl. Most girls love it when they know a guy finds them attractive in such a matter-of-fact way. It eliminates game playing."
That doesn't mean that the guy is putty in the girl's hand, however, Rio says.
"It doesn't mean that the guy is needy or wimpy in any way," Rio says. "In fact, when this expression of interest is coupled with that nonchalant, take-it-or-leave-it attitude, it can be nearly irresistible."
In Rio's new report on how to avoid the dreaded friend zone, he outlines specific strategies men can use to make it clear that they are not looking for friendship.
"If a girl wants some sappy guy to be her new BFF, a guy needs to let her no under no uncertain terms that he's not going to play that way," Rio says. "Because the sad fact is once a guy is thrown into the friendship zone, there usually is no escape. That's why all efforts need to be made to avoid ever even coming close to that danger zone."
Most men can easily avoid the friend zone simply by making it clear that they are talking to a particular woman because she is a woman they find attractive, Rio said.
"The main obstacle men face is the concern that this makes them seem desperate, but with a little finesse and information on how to portray this interest in the right way, any guy will come off as a confident, nonchalant man who refuses to be tossed into the dreaded friend zone."
Bobby Rio is a professional dating coach and creator of products such as Make Small Talk Sexy, Magnetic Messaging, and The Confidence Blueprint. He is also the editor and chief of TSB Magazine, a leading men's online publication.
Learn more at his websites: http://www.makesmalltalksexy.com.