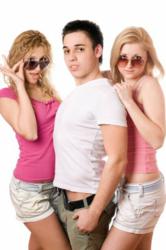 hoboken, nj (PRWEB) May 15, 2013
Sometimes the most difficult, nerve-wracking, stomach-twisting part of leaping into the dating pool is taking that very first step and walking up to a cute girl to say hello, says Professional Dating Coach Bobby Rio in his new report.
"Guys from around the world say this all the time — the hardest thing to do in taking is to walk right up to a girl and strike up a conversation," Rio says. "But when this simple act is analyzed, what it really boils down to is a fear of rejection. That is why the new report on How to Approach a Girl tackles that aspect first. Without conquering the fear of rejection, it doesn't matter how many canned openers a guy has memorized or how attractive or charismatic he is. If he can't get the gumption to get off that chair and walk up to a girl, he's sunk."
Rio's report (http://www.tsbmag.com/how-to-approach-a-girl/) gives hands-on tips and techniques for guys to conquer the fear of rejection forever.
"But conquering the fear of rejection is really just the first step in learning how to approach a girl," Rio says. "The second step in the new report involves doing some honest self-reflection by a guy on what he wants and what is holding him back. A lot of men don't realize that most of the skills learned in how to meet and pick up women really involve self-improvement and building confidence. The report gives guys the tools to do just that."
For instance, Rio's report on how to approach a girl talks about using body language to convey confidence before a guy even makes eye contact with a girl.
"Eventually the tips and techniques outlined in this report become second nature to a guy so they are something he doesn't even have to think about before he approaches a cute girl," Rio says. "But the report also includes some tried-and-true strategies such as invoking the five-second rule."
The five-second rule is a standard in the dating community that basically stipulates that a guy should walk up to and approach a girl within five seconds of first seeing her, Rio says.
"The idea behind this strategy in how to approach a girl is that if a guy walks up and strikes up a conversation within the first five seconds, he is defeating and cutting off at the pass that little voice of doubt that can creep into even the most confident man alive," Rio said. "Acting first and thinking about it later is often not the way to success, but in this case it should be a golden rule."
Bobby Rio is a professional dating coach and creator of products such as Make Small Talk Sexy, Magnetic Messaging, and The Confidence Blueprint. He is also the editor and chief of TSB Magazine, a leading men's online publication.
Learn more at his websites: http://www.tsbmag.com