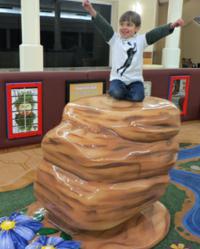 We've actually had parents walk up and thank us. This play area means something to them. It's a tribute to our gorgeous city.
Colorado Springs, CO (PRWEB) May 01, 2013
Chapel Hills Mall is situated on the affluent north side of Colorado Springs, in the shadow of Pike's Peak, the mountain that inspired "America the Beautiful." When the mall's popular 25-year-old play area became too old to fix, owner Garrison Investment Group turned to PLAYTIME, LLC.
"We wanted our play area to honor the gorgeous landmarks that we have just outside our doors," says Victoria Harley, GM, who works for property manager Urban Retail Properties.
Harley challenged PLAYTIME to create a completely custom play area and even worked with the company to arrive at the perfect shape and color for Pike's Peak. PLAYTIME is the global provider of unique, interactive play areas and playground equipment for indoor, outdoor and water play.
"At end of my first meeting with David O'Niones [VP of Sales for PLAYTIME], I said, 'I think this is one of the most fun meetings I've ever had!' He's got great enthusiasm and he's really excited about PLAYTIME's products. After many discussions with alternate companies, my search was over. I was sold after that first meeting."
Harley says the mall play area is filled with recognizable landmarks from around the Colorado Springs region.
"We have replicas of Pike's Peak, Garden of the Gods and even local wildlife. It's a spectacular play area," she says. "PLAYTIME was even able to create a soft play element that looks just like the Pike's Peak we see when we walk out our doors. It's amazing."
The unique nature of the "Pike's Peak Play Park" resonated with the community, as well, Harley says.
"We've actually had parents walk up and thank us. This play area means something to them. It's a tribute to our gorgeous city."
Harley says that PLAYTIME's attention to detail is apparent in every aspect of the mall's play area, including the "factoid" signs placed round the inside of the walls.
"Right before the play area was all done, PLAYTIME got a new material. It has a granite look to it," explains Harley. "They called me and said, 'We got this great new material and we'd like to use it in your play area!' That gives you an idea of the interest they had in our play area. They were phenomenal to work with."
While it's too soon to tell if the new indoor playground will impact traffic and sales, Harley says she believes parents and families are staying longer and she attributes it to the play area.
"This is a tremendous draw for families and we're excited to provide a creative area for our customers to enjoy. You can't help but be enthusiastic about this play area. It's fantastic."
Garrison Investment Group is an asset based investor with more than 60 years of experience in shopping center acquisitions, development, leasing and asset management.