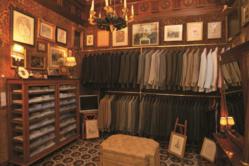 "Being vertically integrated means we have more options than any other custom clothier," said Todd Browne, President of Tom James.
Franklin, TN (PRWEB) May 01, 2013
Tom James Company, the world's largest manufacturer and retailer of custom men's clothing, announces they will host 48 Customer Appreciation Trunk Shows in Spring, 2013.
Tom James, which celebrates 47 years in business this Fall, is offering these events as a thank you to their loyal clientele. Each year, over 80% of Tom James customers are repeat buyers and they wish to extend this opportunity for special pricing to those clients who have enjoyed Tom James clothing in the past.
Ten of the events scheduled will also have a luxury component in that a representative from either Holland and Sherry or Oxxford Clothes will be available for private appointments.
"These events clearly offer 'privileged access' for those clients who seek a fuller understanding of what goes into making a finely constructed garment," said Dougal Munro, President of Holland and Sherry.
"It begins with the cloth. And certainly all cloth is not created equal."
"At Holland and Sherry, we literally go from the wool off the sheep's back to the finished suit," said Munro.
His company, Holland and Sherry, is known as 'Purveyors of fine cloth.' Munro, and Bob Denton or Chris Brueckner, of Oxxford Clothes, will present a program entitled "Lessons on Luxury" at these trunk shows. They are designed to explain the craft behind their products.
Oxxford Clothes, of Chicago, IL, is an iconic American brand that creates custom suits for the most discriminating customer. Their product is considered to be a 'bespoke' garment and is the last hand-made suit in America.
Clients will have the opportunity to see the construction behind a bespoke garment as well as to have the opportunity, through Holland and Sherry, to choose from an extensive array of luxurious and exclusive fabrics, some of which are only available at the Lessons on Luxury shows. Many are at special pricing only during the time of the trunk show.
What distinguishes Tom James from other suiting options is that Tom James owns all its tailoring facilities and factories. "Being vertically integrated," said Browne, "means we have more options than any other custom clothier. We offer over 1100 fabrics, complete custom options, plus we have the ability to manage the crafting process every step of the way."
The Customer Appreciation Trunk Shows give the Tom James client an opportunity to see many fabrics in full lengths of cloth and receive special pricing for the duration of the show.
For a complete listing of participating locations, consult the schedule. Though these events are invitation only, interested parties can contact Michele Stephens, Director of Marketing at m(dot)stephens(at)tomjames(dot)com for an invitation or for more information.
Tom James operates 105 offices in 36 US states and 7 countries, internationally. It owns and operates 3 worsted woolen mills, 9 tailoring facilities and factories and is proud to say over 90% of its finished clothing products are made in the USA.
For more information, consult http://www.tomjames.com.