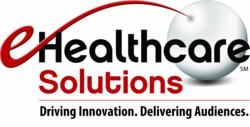 EWING, NJ (PRWEB) May 01, 2013
For the second year, eHealthcare Solutions is bringing together a select group of publishers and experts to share and learn about the digital healthcare marketplace.
2013 EHS Publisher Summit
Maximizing Revenues: The rules have changed but the game remains the same
Attendees can network with key associations, publishers, and resources in the pharmaceutical/healthcare industry to hear about topics including prescriber authentication, audience targeting, pharma trends, and client case studies.
Noted guests represent the leading healthcare professional societies, associations, and media companies, consumer health sites, and other quality digital partners in the pharmaceutical/healthcare vertical.
WHO WILL BE THERE

American Academy of Family Physicians
American Diabetes Association
American Association of Hospital Pharmacists
Jobson
Cleveland Clinic Journal of Medicine
Manhattan Research
comScore
Eli Lilly
Digitas
The Halo Group
and more
WHERE
Convene (formerly Sentry Centers)
Financial District
32 Old Slip | New York, NY | 888-730-7307
If you are interested in attending, please contact Amy Decker for a media pass at (609) 882-8887 ext. 119 or arossi(at)EHSmail(dot)com.