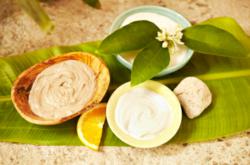 San Francisco, CA (PRWEB) May 06, 2013
Zion Health is proud to announce that local Queens neighborhood natural grocer Veggiemonster will now carry Zion's Ancient Clay Soaps and native remedies containing a unique high grade edible clay called calcium montmorillonite (Kanwa) clay. These natural soaps are formulated to nourish and cleanse the skin without causing irritation.
A family-owned and operated high-quality health food store,Veggiemonster is committed to providing "fresh and wholesome produce and groceries to their vegetarian, vegan and health-conscious neighbors." Over the past three years, Veggiemonster has grown to carry essential lines of organic groceries, vegetarian vitamins and natural body care products. The most recent addition includes Zion Health's healing clay soaps and native clay remedies.
Kanwa clay is a well-known folk medicine remedy for numerous health and skin disorders. According to Michel Abhesera, author of "The Healing Clay," bentonite clay was called "Ee-Wah-Kee," meaning "The Mud That Heals," by Native Americans and applied by native cultures on skin to clear acne, eczema and infected wounds. More recently, Kanwa clay was discovered to hold a negative charge and attract positively charged toxins, viruses and bacteria. MIT scientist Dr. Robert T. Martin notes that calcium bentonite clay has a large surface area that enhances its adsorption and in turn, its ability to attract positively charged particles. Zion Health's clay products harness the detoxifying action of Kanwa clay in their organic soaps and full product line to absorb environmental pollutants on the skin, including heavy metals and harmful bacteria.
As a supporter of natural, vegan and cruelty-free body care products, Zion Health natural soaps are plant based and not tested on animals. The organic clay soaps are also nutrient rich, as kanwa clay provides more than 60 trace minerals.
Zion Health's natural line of organic Clay Soaps are now available at Veggiemonster in Woodside, NY, at http://www.kanwaminerals.com and at health food markets and co-ops throughout the United States and Canada. Zion provides its consumers with pure skin and body care products that are 100% vegan, free of parabens, and aluminum and formulated using certified organic ingredients whenever possible. For more information on Zion Health products, go to: http://www.zionhealth.com