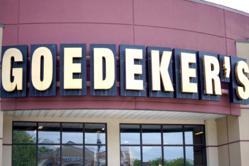 ...when May ends so do the rebates.
Ballwin, MO (PRWEB) May 01, 2013
The month of May is always Maytag month.
This May, online appliance retailer, Goedeker's is offering rebates and discounts on many Maytag appliances.
"This is a time of the year we always look forward to," says Steve Goedeker, CEO of Goedeker's. "May is simply a great opportunity to offer our customers discounts on quality Maytag appliances. I hope many of our customers will take advantage of these savings while they last, because when May ends so do the rebates."
Find Maytag rebates at Goedeker's rebates page.
About Goedeker's
In 1951, Ben Goedeker founded Goedeker's in St. Louis, Missouri. Quickly, Goedeker's became known for outstanding prices and extraordinary customer service. Six decades later, Goedeker's has grown into a major online retailer of appliances, mattresses, furniture, and plumbing supplies. Even though Goedeker's has grown, the company still holds to the bedrock values upon which it was founded. To learn more about Goedeker's or to explore all the fine products Goedeker's, visit Goedekers.com.