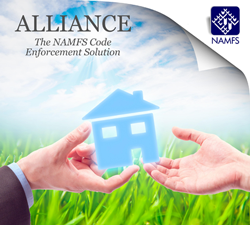 Stow, OH (PRWEB) May 14, 2013
The National Association of Mortgage Field Services (NAMFS) is pleased to announce they will be exhibiting at the 2013 Florida Association of Code Enforcement Conference being held June 25-28 at the Hilton Resort/Ocean Walk Daytona Beach, FL. NAMFS will speak with attendees showcasing ALLIANCE, the NAMFS Code Enforcement Solution, as well as the NAMFS Academy (training and certification program) among other association benefits.
ALLIANCE is a web-based communications portal that provides users with an efficient means to share information regarding at-risk properties. The program allows for a cooperative exchange of information enabling all parties involved to connect via a common platform and share information before engaging in a lengthy and potentially expensive violation recording and remediation process.
The Florida Association of Code Enforcement, Inc. was established in 1989. They are a self supporting, non-profit organization, often referred to as "F.A.C.E." Their more than 2,000 members include professionals involved in the enforcement of health, safety, and environmental regulations or otherwise responsible for the enforcement of municipal, county, regional, state, or federal codes in the State of Florida.
The purpose of F.A.C.E. is to study and advance the science and practice of code enforcement in the State of Florida through training; certification; and the exchange of ideas, information and code enforcement techniques. The Florida Association of Code Enforcement works to develop code enforcement training and application standards, improve service and the quality of life for citizens throughout the state, further the interests of the profession, and promote fellowship and understanding among our members.
F.A.C.E. has developed an educational curriculum for certification of code enforcement personnel. Their members have determined there is a need for state recognition of the code enforcement profession, and the role they collectively play in protecting, preserving, and promoting the quality of life in the State of Florida.
For more information about ALLIANCE, visit Namfs.org.
For more information about F.A.C.E. 2013 visit F.A.C.E. 2013.
About NAMFS
The National Association of Mortgage Field Services, Inc. (NAMFS) is the premier trade association for the mortgage field service industry. We are dedicated to working with all entities of the industry from the Government Agencies and investors that set policy to the contractors and inspectors that perform the work