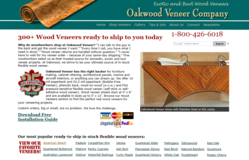 You have to meet your customer, whenever and wherever they are.
Troy, Michigan (PRWEB) May 01, 2013
In the wood veneer market, this is revolutionary. No other flexible backed veneer manufacturer has as many species and sizes in stock---that are easily accessible on a user-friendly web site.
In addition to the 300-plus varieties of veneer, including common species, burls, rustics, and exotics, customers---such as architects, designers, woodworkers, contractors, and cabinetmakers---can choose to put nearly any backer on any veneer. "We are out to offer the most we can for our customers. We redesigned our web site to meet the needs of the most discerning designers and buyers," said Peter Rodgers, Oakwood Veneer President.
The company has a 4:00 pm EST order cut off, with the majority of orders shipped the same day. Depending on customer location, most orders arrive within two to three days of order date, if not sooner. Other veneer suppliers can take up to several weeks to fulfill an identical order. Orders requiring veneer sheets backed in something other than a stock item can be special ordered and are often filled and shipped within 48 business hours, as Oakwood completes this work in-house. The offerings include 10 mil paperback, 22.2 mil paperback, phenolic back, wood-on-wood back and pressure-sensitive adhesive back.
"We understand that in the Internet age, speed is a must" said Rodgers. "People are unwilling to wait for weeks to get the material they need to complete their project. At Oakwood Veneer, we believe they shouldn't have to. There are deadlines to meet---and it is Oakwood's goal to help our customers meet these deadlines!"
Oakwood has been leading the way on all social media outlets. "It is not just enough to have the most stock," says Rodgers, "you have to meet your customer, whenever and wherever they are." Oakwood encourages its customers to link to them on Houzz,Facebook, and Twitter for continuous ideas, updates and discussions.
Oakwood Veneer Company was founded in 1987 by Peter Rodgers as a home-based business. It is now in its fourth location, a 45,000 square foot facility. The company services woodworkers, designers, architects, cabinetmakers, and contractors in the commercial and residential industries in Michigan, across the country, and around the globe. The company has been featured in Fine Woodworking and Panel magazines, as well as on Yahoo News, Woodwork ingnetwork.com, Houzz. com and many other publications and online outlets.