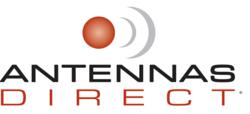 We developed a line of tools to simplify the installation process, thus saving them time and money.
Saint Louis, MO (PRWEB) May 01, 2013
In an effort to empower Americans to take control of their television lifestyle, Antennas Direct, a leading HDTV antenna manufacturer, is re-launching their line of accessories aimed at maximizing the over-the-air experience. As the cord-cutting movement continues to sweep the nation, the antenna crusader felt it was vital to develop tools to make the antenna installation process easier and more cost-efficient.
The new look of their accessories line is now on sale exclusively through antennasdirect.com.

COAXMAX: A 5-in-1 Multi-Functional Cable Termination Tool that allows users to make professional grade coaxial cable cuts, with solid, reliable sealed connections, in just four simple steps. Includes six-piece set of Lock & Seal F-Connectors and a handy wrench.
UHF/VHF Signal Meter: Detects the presence of over-the-air signals—both UHF and VHF frequency bands.
4-Way & 8-Way Distribution Amplifiers: Will boost the signal when splitting to more than one television, thus maintaining a more reliable signal.
Pre –Amplifier: Will boost signal strength when extended cable lengths and splitters are required.
CMAX-F 10-piece F-Connectors: A 10-piece set of Lock & Seal F-Connectors. Perfect for: DSS, security, home theater, and residential structured wiring installations.
Variable Attenuator: Reduces DTV signal for viewers who live close to the broadcast towers, creating a more reliable reception.
"Because cord-cutters are cost-conscious in nature, we have found many of our customers enjoy installing their antennas themselves," said Richard Schneider, president of Antennas Direct. "We developed a line of tools to simplify the installation process, thus saving them time and money."
Through the month of June, Antennas Direct will be offering 20% off on all antenna accessories and free shipping for orders exceeding $49.99. For more information, visit antennasdirect.com or call 877-825-5572.
About Antennas Direct
Antennas Direct is the leader in antenna technology, reinventing the antenna for the digital era. With a heritage in over-the-air antennas specifically tuned for core DTV frequencies, Antennas Direct has invested major resources into the discovery and implementation of new antenna designs for digital reception. Founded in 2003, the firm is a member of the Inc. 500|5000 Hall of Fame and Future of TV Coalition. Visit antennasdirect.com for more information.