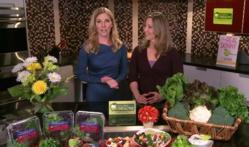 We're thrilled to work with the nation's leading produce companies, like Tanimura & Antle, to show our viewers that healthy eating isn't hard, time-consuming, too expensive or out-of-reach
Salinas, CA (PRWEB) May 01, 2013
Look for produce industry innovator, Tanimura & Antle's Artisan Lettuce on the nationally-syndicated nutrition news show, Appetite for Health, during May, National Salad Month. Two separate segments, "Heart-Smart Salads" and "The Mediterranean Diet" will air across the United States in more than 250 media markets on May 6 and May 15 on The Daily Buzz affiliates and May 16 and May 27 on ION Television's Newswatch affiliates.
Each segment will reach more than 4 million broadcast viewers with important messages about the importance of a plant-based diet for improving health and reducing risk for chronic diseases, including heart disease.
The recent New England Journal of Medicine research showing that a Mediterranean diet can reduce one's risk for heart disease by as much as 30% was the inspiration for the "Mediterranean Diet" segment to air on May 15, 16 while the Heart Health segment, airing on May 6 and 27, highlights how viewers can easily identify heart-smart choices in the supermarket, like Tanimura & Antle Artisan Lettuce bearing the American Heart Associations' Heart Check.
Show hosts, nationally-recognized registered dietitians and authors, Katherine Brooking, MS, RD and Julie Upton, MS, RD, deliver sound nutrition, healthy eating and cooking advice each week on their show and encourage viewers to eat like a nutrition pro.
"We're thrilled to work with the nation's leading produce companies, like Tanimura & Antle, to show our viewers that healthy eating isn't hard, time-consuming, too expensive or out-of-reach," said Julie Upton, MS, RD. "We hear people say all the time why they can't eat better—but every week, we show them how they can," added Katherine Brooking, MS, RD.
A Mediterranean diet is typically rich fruits and vegetables, olive oil, nuts and beans. "Salads made with fresh leafy greens and vegetables can be strong component of the Mediterranean diet making our Artisan Lettuce an ideal ingredient," commented Diana McClean Director of Marketing. Artisan lettuce is a variety package of dark green and red lettuce that delivers over 45% of the daily value of Vitamin A offering consumers excellent nutritional value as well as options for flavor and variety in their family meal preparations.
In February, Tanimura & Antle's Artisan Lettuce received the heart health certification from the American Heart Association. Packages of Artisan Lettuce feature the Heart Check mark that easily identifies it as a sensible food choice in an overall heart healthy diet.
The Appetite for Health television segments are also distributed on the AppforHealth.com website, Appetite for Health social media channels and is distributed to 10,000 e-newsletter subscribers.
About Tanimura & Antle
Tanimura & Antle is an industry leader whose commitment to premium quality produce has remained strong since its formation in 1982. The Tanimura & Antle families combined years of experience and knowledge to establish a produce company unrivaled in its quality products, innovation and dedication to growers, customers, consumers and employees. Today, as one of the largest independent lettuce growers in the United States, Tanimura & Antle farms more than 30,000 acres of rich, fertile farmland and ships a full line of premium fresh produce products throughout North America, Europe and Asia. For more information, please visit http://www.taproduce.com.
About Appetite for Health
Appetite for Health (AFH) is a multi-platform food, nutrition and healthy lifestyle brand that reaches more than 16 million food and nutrition enthusiasts monthly via traditional TV broadcast and new online and social media. AFH provides unique partnership opportunities to help brands build visibility and engagement. Brooking and Julie Upton are among the nation's most respected and sought-after nutritionists and provide not only daily content for AppforHealth.com but are also contributors to The Huffington Post, Active.com and Livestrong.com which together, have a combined reach of more than 70 million unique monthly visitors. For more information, visit http://www.AppforHealth.com.
About National Salad Month
ADS launched National Salad Month in May of 1992, in response to a 1991 Gallup Poll that revealed that three out of four people eat a tossed salad at least every other day. A survey conducted in 2000 showed that nearly 85 percent of adults say they eat a salad at least once a week. And nine out of ten people, according to both polls, agreed that salads taste better with salad dressing.