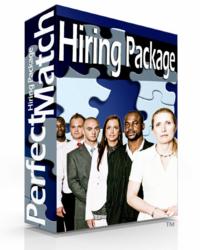 The PerfectMatch package can be customized to meet the individual needs of a company, and seamlessly integrates into any current hiring model.
Boardman, OH (PRWEB) May 16, 2013
A recent survey by CareerBuilder revealed that 69 percent of companies were significantly harmed by bad hiring decisions in 2012. This staggeringly high figure is compounded by new data that estimates the annual cost of bad hiring decisions to be more than $25,000 for 41% of businesses, and more than $50,000 for 25% of businesses.
To help businesses avoid the destructive impact of bad hiring decisions, PeopleKeys recently announced the launch of their PerfectMatch Hiring System. The PerfectMatch Hiring System is based on DISC theories of human behavior, and can be used to screen potential candidates based on key personality traits that cannot be easily evaluated in a traditional interview.
With the PerfectMatch Hiring System, applicants are asked to take a short personality test, the results of which are stored in a secure online database. Once data from multiple candidates has been entered into the system, PerfectMatch generates a comprehensive hiring report which includes:

Information on each candidate's personality and aptitude
Projected strengths and limitations of each candidate
Suggested interview questions based on assessment results
Insight into each candidate's communication style, team thinking style, and workplace values
The PerfectMatch hiring report compares each applicant's skills against ideal benchmarks for the open position, and ranks candidates according to desirability and likelihood of success. PerfectMatch empirically assesses each candidate's likelihood of:
Producing quality work
Generating quick results
Integrating into the existing work environment
Demonstrating skills compatible with the position
Collaborating well with others
Taking a leadership role
Meeting deadlines
Demonstrating the right attitude and personality for the job
The PerfectMatch package can be customized to meet the individual needs of a company, and seamlessly integrates into any current hiring model. In a competitive environment where companies often have dozens of candidates from which to choose, PerfectMatch greatly expedites the hiring process and takes the guesswork out of selecting the best candidate for the job.
For more information on DISC and the DISC PerfectMatch Hiring System, please view a short informational video or contact PeopleKeys.
About PeopleKeys
PeopleKeys has been providing tools to measure the connection between personality and human behavior for over 30 years. PeopleKeys believes that an understanding of human behavior can be used to make smart hiring decisions, improve relationships, streamline productivity, build strong teams, and resolve conflict. For more information about PeopleKeys and their DISC solutions, please visit their online store or contact Marketing Manager Kaitlyn Miller at 330-599-5580 x113.
###