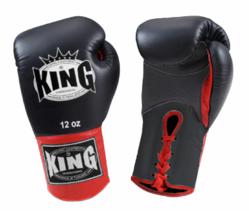 Now the public is able to buy King Boxing Gloves and other fight gear directly from the brand.
(PRWEB) May 09, 2013
KING PROFESSIONAL BOXING was launched into boxing circles in the year 2000. The brand has been widely appreciated by members of the fighting sports community during the past thirteen years, and as a result King boxing gloves and shinguards are highly sought after items. Now the time has come to make King products available to the general public, with the launch of a new website, enabling retail customers to choose from the full-range of King products, from sparring gear such as boxing gloves, MMA gloves, shinguards, and headgear, to training gear such as King Thai pads, punching mitts, kick shields and heavy bags, to fightwear such as King Muay Thai shorts, tracksuits, fight robes and cornerman's jackets.
At the brand's official website, King Boxing Gloves are available in both laceup and velcro models, in single color, dual-color, or triple color versions. With hundreds of color combinations to choose between, you are sure to find a pair of boxing gloves that show your individual style well. Every pair of King Boxing Gloves is a hand-made work of art, and features the highest quality leather, reinforced stitching, expert construction and superior, multi-layer shock-absorbing materials.
King Shinguards are also prized for their protective value. Often imitated but never equaled, King shinguards set a benchmark of quality in the industry which elite fighters have come to trust and depend on. At the official website, you can find King shinguards available in single color and dual color versions.
King Muay Thai Shorts and Boxing Trunks are greatly admired, not only for their visual designs, but also for their comfortable feel, functionality and longevity. You can browse the full catalog of fightwear, including warmup suits, tracksuits, fightrobes, cornerman's jackets and other gear at kingfightgear.com.
King Thai Pads and Punching Mitts are innovatively shaped and ruggedly built to endure countless hours of training. All King training gear is available to the public at the official website.
About King Professional
King Professional, is one of the world's leading high-end protective equipment brands for fighting sports. Manufactured by expert craftsman at the exclusive King factory in Bangkok, Thailand, King Professional gear represents the highest standards of quality in martial arts. After thirteen years of operation, King maintains its vision of "Total commitment to keep high quality standards and set new trends." Wholesale customers go here to register and make online purchases for their stores and gyms