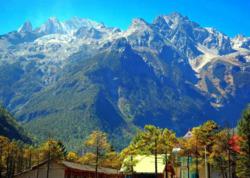 We arranged four of the most popular destinations flexibly in this itinerary, aiming to offer the most beautiful part of Yunnan. -- Helen Wang
(PRWEB) May 02, 2013
The best season to capture the the unique beauty of Yunnan is arriving in May! WindhorseTour, a local travel agency with over 10 years experience tailor making tours throughout China for foreign travelers, has just updated their most popular 9 days Yunnan highlights tour with new price.
"Based on previous years' feedback from our clients, we arranged four of the most popular destinations flexibly in this itinerary, Kunming, Dali, Lijiang and Shangri-la, aiming to offer the most beautiful part of Yunnan province to travelers," Helen Wang, the sales manager at WindhorseTour said.
Because of the pleasant climate and flowers blooming, May is one of the best month allowing travelers to savor the unique beauty of this most southern place in China. Clients will spend two days enjoying the leisurely time in Lijiang, an ancient town blessed with fresh air, clear stream, breathtaking snow mountains and an undisturbed landscape inhabited by a friendly group of people.
The trek in Tiger Leaping Gorge, one of the deepest gorge in the world is a "can't miss" experience en route from Lijiang to Shangri-la, especially in the season when the hills are afire with plant and flowers life. The itinerary in this Yunnan highlights tour was designed flexible, allowing travelers to capture the breathtaking scenery with their cameras.
At the sixth day clients will arrival at Shangri-la, a fairyland which was firstly known as a fictional location of the 1933 novel Lost Horizon by British author James Hilton. Then they will immerse themselves into the lofty and continuous snowy mountains, endless grasslands, steep and grand gorges, pure blue lakes and the bucolic villages in the following two days.
In addition, Shangri La and the surrounding countryside is home to many Tibetans. Travelers will have a chance to explore the mysterious culture of Tibetan buddhism while admiring the beautiful landscapes here. "Travelers may experience a home visit in which they'll become familiarized with the process of making butter tea and taste Tibetan diet. In the evening, Tibetan circle dancing will occur and all are invited to participate or watch on through the night." Helen Wang expressed.
WindhorseTour specializes in creating tailor made experiences based on every client's unique needs and operating groups to all provinces in China. Please visit WindhorseTour.com for more information or contact them.
Email address: news(at)windhorsetour(dot)com
TEL: (+86)-28-85593923, (+86)-28-86254701
Fax: (+86)-28-86254710