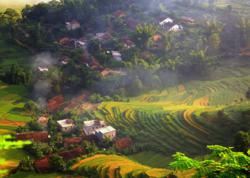 Spring is the best season to capture the boundless rice terraces in Longsheng. -- Helen Wang
(PRWEB) May 09, 2013
WindhorseTour, a top China travel agency with 10 years experience of organizing tours throughout China for foreign travelers, has just updated their popular 6 day Longsheng trekking tour by adding new features, including a remarkable Li River cruise from Guilin to Yangshuo.
Based on the feedback from the previous clients, WindhorseTour redesigned the itienrary, which starts with a trek in Longji, one of the most impressive Terraced Rice Fields in China; known for its appearance of a dragon's scales. "Spring is the best season to capture the boundless rice terraces when all the fields look like green chains or ribbons hung on the hillsides, providing a great photography chance for travelers." Helen Wang, the sales manager at WindhorseTour expressed.
The trek lasts two days, more awaits as travelers will visit several Yao and Zhuang villages, and observe a different glimpse of of China's ethnic identities. Next, they will enjoy a cruise along the Li River to capture the unique scenery of Karst landscapes in Guilin.
Generally it takes 4 hours cruising from Guilin to Yangshuo. During the cruise, travelers will be astonished by the green covered Karst hills with lush vegetation at each bend of the limpid river under the blue sky.
Upon arrival at Yangshuo, WindhorseTour offers their clients several activities to explore deep into the classical teared Chinese countryside, such as hiking or biking. There are several ethnic minority groups living in this small town, including Hui, Zhuang, and Yao. Travelers will have an opportunity to experience the cultures in the local houses.
WindhorseTour specializes in creating tailor made experiences based on every client's unique needs and operating groups to all provinces in China. Please visit WindhorseTour.com for more information or contact them.
Email address: news(at)windhorsetour(dot)com
TEL: (+86)-28-85593923, (+86)-28-86254701
Fax: (+86)-28-86254710