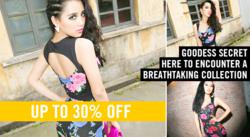 And most of all, we will make the women dresses as the footstone to expand OASAP to be a notable brand in the future.
New York, NY (PRWEB) May 21, 2013
After more than a year of development, the OASAP brand has gained strong support from global fashion lovers and fashion bloggers. Oasap.com is unfolding its own style gradually. In recent communications, the OASAP management team focused on questions of strategy for the OASAP brand and its product positioning for the next three years with their partners, and listened to their useful suggestions.
"I would like to congratulate OASAP on their remarkable growth last year, which has propelled them into one of the most rapidly developing online fashion retailers in USA," said Miss Blincoe, one of the OASAP Hunter Program Partners. "My suggestion for the OASAP brand isd to study the successful case from Nasty Gal, which is recognized as the 11th fastest growing retailer in the United States by INC Magazine. I wish the OASAP brand would generate significant improvements in efficiency throughout their entire development strategy. I look forward to continuing to develop our partnership and wish them continuous success."
After a series of discussions and researches, the OASAP management team strengthened the direction of development for its brand for the next few years, this is, to become a new type of fashion brand like Forever 21, and define its main feature like high fashion with a low price. "Currently, the rapidly growing Nasty Gal is the first brand that has risen from the internet as a Forever21-type fashion brand," OASAP CEO, Mr. Moore introduced, "OASAP will march toward to this goal, and of course, the OASAP brand will define its own style and characteristics, which are different from Nasty Gal."
"In the future, OASAP products will mainly focus on dresses, and OASAP dresses will be concentrated on cocktail dresses, maxi dresses, vintage dresses, and street style dresses," OASAP Brand Director, Mrs. Yuki said, "And from last month, clothing such as cocktail dresses, lace dresses, one-shoulder dresses, sleeveless dresses, bohemian dresses, stripe dresses, embroidery dresses, pleated dresses, sexy dresses, punk dresses and street style dresses are being offered in the Women's Dresses category on Oasap.com. The list is exhaustive and one actually needs to see it to believe it, and most of all, we will make the women dresses as the foot stone to expand OASAP to be a notable brand in the future."
ABOUT US
OASAP IS: A High-street Fashion Online store
OASAP Likes to: Deliver fashion & love!
OASAP is a global online store dedicated to high-street women fashion by offering various kinds of women's apparel, bags, shoes, jewelers, accessories, beauty products, etc.
OASAP was founded in late 2011, and has already grown to the leader of high fashion online stores. We keep updating products at a high rate every day. Now we update more than 600 new products each week. Those products mentioned definitely belong to the latest fashion trend.
OASAP's mission is to make you closer to the planet's most cutting-edge fashion, no matter where you are or what class or age group you are in. Pursuing fashion is the right of every woman.