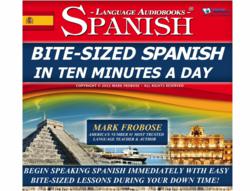 We need to break the chains of computer based language programs and experience the unlimited freedom of audio language programs!
Mark Frobose/Founder
Language Audiobooks Inc.
Champaign, Illinois (PRWEB) May 07, 2013
Mark Frobose of Language Audiobooks announces the creation of a new website where anyone can instantly download language programs in any language.
The website is designed to provide visitors with a clear alternative to Rosetta Stone type computer based language programs.
"Don't get Rosetta-Stoned into believing that a computer is the best place to learn a language," warns bestselling language author Mark Frobose.
Contrary to the marketing hype hear about how great computerized language programs are, they all come with one serious drawback.
The learner has to be in front of a computer in order to use them.
This means people can't learn languages while driving, shopping, working out,cooking, jogging, or waiting for doctors or picking up their kids from soccer practice.
Your computer is the worst place to learn a language simply because it shackles the learner to one location, limits movement, and actually prevents people from learning languages while on the go and during life's many waiting periods.
All of those traffic jams, red lights and delays are really all golden opportunities to practice becoming fluent in another language.
So what's the best way to speak any language?
Here's why.
Language Audiobooks programs are versatile. They're made to be used anywhere, anytime, with nothing to look up, with an English speaking instructor and native speaking language assistants who can teach anyone how to really speak their language.
And the lessons are so short, fun and and so easy that even a five minute lesson helps achieve the goal of fluency in another language. What could be better?
Well, how about the best guarantee in the industry?
"Download a program today and experience total freedom of movement while learning to speak a new language of your choice," concludes Mark Frobose.
"Language Audiobooks programs are the fastest and easiest way to learn a language."