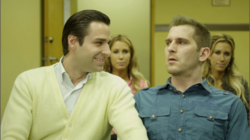 Los Angeles, CA (PRWEB) May 01, 2013
Wize Guys Comedy, an online network aimed at providing progressive, over-the-top comedy to viewers has recently partnered with the growing YouTube giant, Fullscreen, Inc. to release all new material this summer.
New programming will be featured on the premium YouTube channel; wizeguyscomedytv. The site will feature all-new episodes of Wize Guys Comedy favorites and showcase new content. Some of the scheduled shows include:
"Geo's Pizza"
"Geo's Pizza" revolves around 3 friends who inherit a pizzeria from one of the character's uncle's. The guys barely have time to celebrate and settle before an explosion rocks the pizzeria, blowing it to pieces. The new owners find themselves in an even deeper predicament as the police suspect them of masterminding the explosion.
"Fat Camp"
In the vein of "Family Guy" and "South Park," "Fat Camp" will take animation comedy over the top! The series focuses in on a summer weight loss camp ran by former fat kid and now health guru, Jeremiah Sunflower and his odd ball staff as they attempt to empower and change the lives of the camps young attendees.
"The Rick Ingraham Experience"
For the first time ever, Wize Guys Comedy is proud to announce they are bringing their style of comedy to a late night audience. "The Rick Ingraham Experience" will be airing on the new premium channel in June 2013. The show will feature comedian Rick Ingraham as he interviews guest on a wide variety of topics.
"Boderline"
The series revolves around a bi-polar drug cartel leader and his nemesis, a DEA agent with a seriously low I.Q. The two will face off weekly in completely screwball situations, with comedic, outlandish twists and turns. The series, which consists of 10 episodes, will premiere a new episode weekly and is sure to keep viewers coming back for more.
To visit the Wize Guys site, go to: http://www.wizeguyscomedy.com. For more information on Wize Guys, please contact Stuart Page at: 512-963-7243.