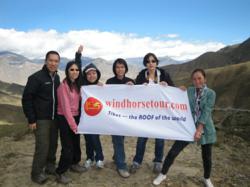 The tour itinerary we designed is not tight, so every client will have plenty of time to stop and shoot pictures along the way. -- Helen Wang
(PRWEB) May 16, 2013
WindhorseTour, a local travel agency with offices in Lhasa updated 8 days Lhasa to Kathmandu tour with new price (starting from $1,048) and new itinerary in their 2013 Tibet Group Tours series. These affordable group tours have always been the most popular choices for single travelers. With over 10 years' experience in providing tours throughout Tibet, WindhorseTour is the expert to organize Tibet group tours for foreign travelers.
The route in this 8 days tour follows the Friendship Highway, which starts from Lhasa, through, Shigatse, Zhangmu, Friendship Bridge and ends in Kathmandu. Clients will enjoy a trip filled with stunning scenery while driving across mountain passes and ascending to the Everest Base Camp .
The new itinerary in Lhasa, the capital of Tibet, includes a stop at the less visited Ganden Monastery. Just over 50 km. (21 mi.) from Lhasa it provides a unique look into a remote monastery and provides opportunities for short day treks. As the starting point of this tour, Lhasa is a good place for clients to acclimate to the high altitude and make friends with their fellow travelers. They will visit several highlights in Lhasa including Potala Palace and Jokhang Temple.
The highlight arrives at the fifth days when the world No. 1 summit Mt, Everest can be seen in its dramatic splendor. Next the group will drive to the Rongbuk Monastery, where they will have a chance to capture the magnificent sunset and sunrise of Mount Everest with their cameras. Based on individual interest and physical condition, travelers will choose to trek or take a bus to the Everest Base Camp, 5,200 m. (17,060 ft.).
On the eighth day clients will cross the "Friendship Bridge" and enter Nepal. WindhorseTour will be pleasant to help the clients extend their trips to Nathmandu and other highlights cities in Nepal.
Many budget travelers often feel that there are limited options in group tours. However, WindhorseTour are very confident that their clients will enjoy the group tour without sacrificing the flexibility and quality of a private tour.
Helen Wang, the sales manager at WindhorseTour expressed, "The tour itinerary we designed is not tight, and the travel group will be small, so every client will have plenty of time to stop and shoot pictures along the way."
WindhorseTour specializes in creating tailor made experiences based on every client's unique needs and operating groups to all provinces in China. Please visit WindhorseTour.com for more information or contact them.
Email address: news(at)windhorsetour(dot)com
TEL: (+86)-28-85593923, (+86)-28-86254701
Fax: (+86)-28-86254710