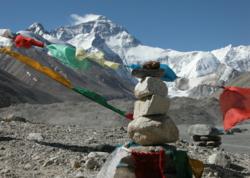 Whether they are looking to focus on culture, nature, or a mixture of both, WindhorseTour offers a variety of options. -- Helen Wang
(PRWEB) May 04, 2013
WindhorseTour, a local travel agency with over 10 years' experience in organizing tours throughout Tibet for foreign travelers, has just updated their 2013 calendar of Tibet Group tours, aiming to help their clients minimize travel expenses without sacrificing quality.
These affordable tours offer a great chance for backpackers who want to connect with Tibet's natural beauty and engage with local culture on a low budget. "Whether they are looking to focus on culture, nature, or a mixture of both, WindhorseTour offers a variety of options." Murphy, a travel adviser at WindhorseTour expressed. The most popular tours include:
4 days Lhasa City Tour: This tour is suitable for those who have a tight schedule and want to explore the unique Tibetan culture in a short time. The itinerary is flexible but focus on the attractions in capital city of Lhasa. Travel groups begin their tour with a visit to Potala Palace and Jokhang Temple. One of the unique features of this tour compared with other is a stop at the less visited Ganden Monastery. Just over 50 km. (21 mi.) from Lhasa it provides a unique look into a remote monastery and provides opportunities for short day treks. Visiting and learning about these palaces gives clients insights into Tibetan Buddhism and how it has influenced Tibetan history.
8 days Everest Base Camp Tour: This Tibet tour blends Tibet culture and history with some of Earth's most spectacular scenery. After becoming acclimatized to the altitude and oriented with Tibetan culture by a local guide. The group of no more than 12 people, will head for Mt. Everest Base Camp. The drive to base camp takes two days, making several stops, first at Lake Yamdrok, a vast mountain lake that shines a deep blue on sunny days, second in Gyantse to explore Pelkhor Monastery and Kumbum Pagoda, and then an overnight stop in Shigatse where travelers can visit a Tibetan market and explore the sprawling Tashilhunpo Monastery. The tour arrives at Everest Base Camp in the afternoon and stays overnight for early morning views of the mountain. If clients what to extend their trip to Kathmandu, they can also choose the 8 Days Lhasa to Kathmandu tour.
One of the many Unique travel opportunities in these group tours is it provides backpackers with a chance to engage with Tibetan cultures and become more in touch with its' natural heritage. WindhorseTour can help them cut costs and make friends from all over the world by matching small travel groups of similar itineraries. With summer rapidly approaching, travelers are advised to plan in advance and book their tour as soon as possible.
WindhorseTour specializes in creating tailor made experiences based on every client's unique needs and operating groups to all provinces in China. Please visit WindhorseTour.com for more information or contact them.
Email address: news(at)windhorsetour(dot)com
TEL: (+86)-288-559-3923, (+86)-288-625-4701
Fax: (+86)-288-625-4710