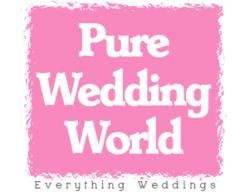 Get your Free Wedding PA and take the stress out of planning your wedding.
London (PRWEB UK) 2 May 2013
The UK Wedding market is estimated to be worth over £10 billion per annum, with average budgets of £30,000 per wedding you would expect to see a well structured market, but this is not the case.
The industry is run by small companies and one man bands, the effects of which have resulted in a service industry that has very little customer service with most brides spending more time speaking with answer machines than they do with suppliers.
The lack of corporate structure has resulted in an industry with no regulation or direction, explains Mike Mazza Pure Wedding World CEO, Brides requirements have changed over the years but the industry has not, through extensive market research, we found that brides were working full time these days and needed more support than ever before. So you would expect to see an increase in the number of brides using wedding planners, but this was not the case, in fact the exact opposite, mainly due to the way wedding planners charge between 10% to 15% of the couples' budget. Most brides said that they would rather spend this money on a designer dress and struggle through planning their wedding with the support of their family.
The results of the market research highlighted the fact that brides needed support, that is exactly what Brides will receive with the Free Wedding PA service. After working with wedding TV at the beginning of last year to test the market research results and see whether brides would register for such a service. Wedding TV placed a registration form on the homepage of their website and after just two weeks 720 brides had registered and literally hundreds of emails from those brides saying what a fantastic service.
Over the past year Pure Wedding World have been building a network of venues and suppliers all of which have been visited and audited by a national network of assessors and developing a wedding planner software that both the bride and Wedding PA have access. The software helps the bride with budgeting, guest lists, proposals and timelines.
Once the Wedding PA understands what the bride requires, a personal eMagazine is created for every bride with the profiles of venues and suppliers within their area. This is presented with all of the information, images and videos where available that a bride would need to short list local venues and suppliers. Once the Bride has chosen, she will request for her Wedding PA to arrange a meeting with the suppliers.
We have many industry firsts coming over the next few months said Mike Mazza, we take our position as the first corporate coming into this market very seriously and we intend to ensure that all of our registered brides receive exceptional customer service not just from Pure Wedding World but from the network of professional suppliers that have been audited and brought together throughout the UK.
A marketing plan has been put together that will combine online, print and TV advertising. From 1st May there will be 820 adverts running on wedding TV every month for the next 12 months. The message will be clear, if you are getting married then register for your Free Wedding PA and take away all of the stress associated with planning a wedding.