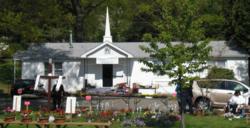 Not a day goes by when I don't think how the Garden Chapel Summer Program has influenced my life in a positive way. Pastor Timothy Hart
Dover, NJ (PRWEB) May 01, 2013
Mother's Day Flower Sale in Dover NJ, on Saturday May 11, 2013, will Raise Money for Garden Chapel's Program
The Garden Chapel Summer Program has served the Dover and Victory Gardens community for over thirty years and has directly impacted hundreds of families. The experienced and dedicated staff members are committed to developing leadership and life skills through creative activities and instruction. The employees and volunteers submit to extensive background checks to ensure the safety of our children and the integrity of our program. The generous support of the community and corporate donations will help provide the staff with quality resources to enhance the quality of the program.
Pastor Timothy Hart reflects on his time at the Garden Chapel Summer Program: "Not a day goes by when I don't think how the Garden Chapel Summer Program has influenced my life in a positive way. Whether it was the trips to Spruce Lake, learning to cook with Mrs. Hershey or trying to find a way to block Pastor Adams' famous hook shot, these were great memories that I enjoy 23 years later." He hopes that the Mother's Day Flower Sale in Dover NJ will provide a boost to their fundraising campaign.
The Garden Chapel's vision statement for this year is "Rebuild, Restore, and to Build". Part of this vision includes reviving our Summer Program, a ministry that first served the Victory Gardens Community in 1976. It is amazing how God used Pastor Jesse Adams' vision and the faithfulness of the congregation to minister to children for over 30 years. Your support will help us help us restore a program that has benefited hundreds of families.
The Garden Chapel in Dover NJ is a tax-exempt non-profit organization as defined by the IRS code 501c; tax Id # is 22-2864937. Through the summer program,the Garden Chapel will continue to build a stronger community. "Our goal is to provide a dynamic and engaging summer program that allows children to stretch beyond their current limits and develop their individual potential." says Sister Jeanine, President of the Garden Chapel Council. The Garden Chapel's website is set up to receive donations at http://www.gardenchapelchurch.org/summer-program/ .