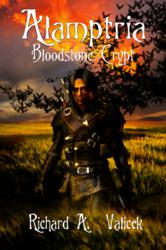 The Undead Have Risen
Toronto, Ontario (PRWEB) May 01, 2013
With an adjusted format and new title, Alamptria 1: Bloodstone Crypt is now available for purchase. One of the most unique genre novels ever written, Richard A. Valicek's tale weaves together complex plots, dynamic characters, and non-stop action that has reviewers raving. The novel, under its original 2011 release, also won the Buzillions Reviewers choice award.
In the 18th century, vampires convene to plot their takeover of the human race. In the peace-loving medieval kingdom of Elysium, the royal sons, knights who have been imbued with extraordinary powers by Grongone the wizard, gather their military forces, an assortment of magical creatures, and their will to survive and protect their people as they journey to Mount Drone to fight against the undead forces. It becomes a race against time when the fiancée one of the Seaton brothers is kidnapped; she must be saved before she, and the rest of Elysium, are transformed to the undead.
Bram Stoker is a direct influence on the novel, says Valicek. "I went to back to the original vampire tale and built on its complexity and history to give readers something new." Echoes of J.K. Rowling and J.R.R. Tolkien can also be heard in the humour, witty dialogue, and sophisticated detail of this mythical world.
Richard A. Valicek holds a certificate from George Brown College in Liberal Studies and a diploma in Graphic Design. He lives in Toronto, Canada.
Alamptria 1: Bloodstone Crypt is available for sale at thousands of stores and online for the Ibook, Kindle, and Epub. Coming as Nook and trade paperback soon!
For further information about Alamptria 1: Bloodstone Crypt, visit http://www.alamptria.com or contact the author at 416-570-5655.