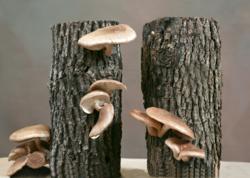 Only a few 'shrooms pop out at first. But as the log matures, it'll produce increasingly larger crops for two years or more and then slowly taper off.
Perkins, OK (PRWEB) May 01, 2013
"Shiitake mushroom logs grow in light, in room temperature and make great conversations pieces," according to Sandra Williams of Lost Creek Mushroom Farm. "These logs are full of shiitake spawn, the mushroom seed material, and will 'fruit' or produce a crop every two months for years. A log kit is truly a gift that keeps on giving."
The logs come in a range of sizes and prices, from a 'Shroomie, a 6" log, for $18 to the Best Buy, two 14" logs with soaking trays for $95. Prices include shipping and handling. Kits include a hardwood log ready to pop out its mushrooms, plus instructions and recipes. All logs 10" and larger are fully guaranteed.
A log requires regular soaking in non-chlorinated water. "To get mushrooms, you shock it, meaning to soak it in ice water. That fools the logs into thinking it's the spring or fall rainy season and triggers the fruiting cycle.
"Shiitakes are known for their flavor -- rich, full of body and not like any other mushroom. Plus, they take on the influences of the herbs, spices, meats and juices they're cooked with, so the flavor of the mushroom is different and distinctive in every dish. They can be eaten fresh, dried, or sautéed and then frozen. Log-grown shiitakes are plump, with a texture more like meat than mushroom; and they are high in protein and low in fat."
It's not just the mushrooms themselves, but also the effect of the log just being in the house. With over 30 years of living with shiitake logs, The Mushroom Lady has plenty of experience. "Just like with flowers and crystals, music, fragrances and beautiful things, the very presence of a shiitake log can have a positive effect on the emotional atmosphere of its home. The shiitake has a high, fine vibration we associate with joy. It was known and respected by our ancestors for lifting the weight of old griefs that lay on the heart and spirit. I believe it's the joy that heals, even though there may be some natural chemical compounds that contribute to our emotional well-being."
Physically, shiitakes stimulate and support the immune system, regulate blood pressure, lower cholesterol, and reduce inflammation. They're used around the world to treat a wide range of conditions and diseases. "Most of the mushrooms we eat are anti-inflammatory, anti-viral, and anti-fungal," Williams said, "and shiitakes are at the top of the heap of healing mushrooms."
Lost Creek Mushroom Farm Kits start at $18 for the 'Shroomie. The 10" kit sells for $40. The Original Tray Kit is $55, featuring a 14" log with its own tray for soaking and fruiting.
Kits with two logs will provide shiitakes every month or more than double a bi-monthly harvest. The Ma and Pa kit with two 10" logs sells for $50. The Best Buy is $95 for two 14" Original Tray Kits shipped to the same address, a savings of $15. "I think of it as a great gift, or give one away and keep one for yourself," Williams said.
Online purchases can be made at http://www.shiitakemushroomlog.com. The number for phone orders and requests for free brochures is 1-800-792-0053. Kits are available at Amazon.com at slightly higher prices.
A portion of sales are donated to the Williams' Mushrooms in Ghana Project and to The Voice of the Mushroom Foundation, dedicated to promoting education about the health benefits of mushrooms and promoting mushroom production worldwide.