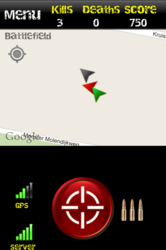 Boys will be boys. We still play the same games like we used to play them in the previous generation but now we can play them virtually
Hengelo, The Netherlands (PRWEB) May 03, 2013
In the competitive market of app downloads—it is often a challenge to gain worldwide attention. When Jacco Gruiters, CEO of Uptight Media Concepts, first developed MobileWar—he did not expect MobileWar to take off so well.
Playing paintball with a mobile phone does not sound like the obvious thing to do. Running or perhaps even crawling with a cellphone might damage your expensive smartphone when using it as a paintball gun. But then there's the fun factor and it's got over 15,000 children playing throughout the world. What's the secret?
"Well, I think it's just that boys will be boys. We still play the same games we used to play in the previous generation but now we can play them virtually." says Jacco Gruiters, CEO of Upright Media Concepts, the company behind MobileWar. "Look at games like Wordfeud, it's just a virtual version of Scrabble, but because of the social factor, it took off like a skyrocket. We are ofcourse nowhere near the success of Wordfeud, but it's fun to watch a silly game like ours take off."
In MobileWar Players get killscores when they hit their opponents and deathscores when getting hit themselves. Bullet counting is a must as players need to actually reload their weapon to continue shooting.
The game uses both GPS and the accelerometer inside the phone. By using different international servers fast gameplay is possible in all continents especially when using 3G or 4G/LTE networks. MobileWar can be played on iPhone 3G,3GS,4,4S and iPhone 5. Players will need a data subscription or a wifi connection to be able to play MobileWar.
MobileWar is available on Android & iPhone in both a free version and a paid version which is $1.99
View MobileWar in Apple Appstore
View MobileWar in Google Playstore
Visit the MobileWar website
Watch the animation about MobileWar
About Upright Media Concepts
Upright Media Concepts is a Dutch company specializing in mobile apps & creative concepts. MobileWar is its first release