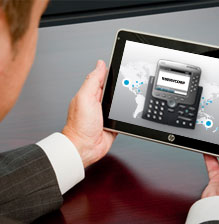 "With our OneFone service, your business phone number travels with you wherever you go so you'll never get out of touch." - Susie Martin, General Manager South East Asia and India
Kuala Lumpur (PRWEB) May 01, 2013
Servcorp, a leading serviced office and virtual office provider worldwide, recently unveiled a new range of communication services to add on to their existing product lineup.
Servcorp intends to integrate their communications technology by introducing the new OneFone service, which gives clients the capability to make and receive calls using PCs, tablets or even smartphones, all via the Internet. Clients can also send and receive faxes via their computers and apply for any one of Servcorp's dedicated international phone numbers to be forwarded to local numbers. Other recent upgrades include their improved IT support encompassing telecommunications and broadband Internet.
"As an office solutions specialist, we understand the need for a fast, secure and reliable technology within the office. With our OneFone service, your business phone number travels with you wherever you go so you'll never get out of touch," said Susie Martin, General Manager South East Asia and India.
"Business people in this digital age are often mobile and our new technology make it easier for clients to manage calls and faxes no matter where they are in the world. This is just the beginning of our upgrading plans and we are constantly developing our products to be state-of-the-art with great manageability," Martin added.
The public can view more information on the new set of technology via Servcorp's Youtube channel. The company, which has extensive networks in major cities around the world including New York, Sydney, Tokyo, Paris, and Dubai.
ABOUT SERVCORP
Servcorp was founded in 1978 and is well known as a leading provider of premium office spaces worldwide. With an extensive network of locations, the company offers serviced offices, meeting rooms and virtual offices in most major cities in the US, Europe, Middle East, Asia, Australia as well as New Zealand. In Kuala Lumpur, Servcorp has serviced offices at Menara Citibank and Menara Standard Chartered. For more information, please visit http://www.servcorp.com.my/en/.