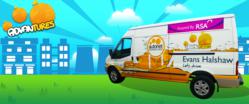 All of the staff at Autonet Insurance wishes him the very best of luck, and hope he can raise as much money as possible for his daughter Ciara and other little girls with the same condition."
(PRWEB UK) 2 May 2013
Staffordshire based insurance broker Autonet Insurance has spent the last 12 months planning and coordinating one of their biggest projects to date. Working tirelessly over the last year, members of the Distribution team have created a fantastic charity campaign to aid both local and national fundraising organisations.
Advantures was a concept devised in-house, where employees from Autonet Insurance will travel both nationally and internationally on specific planned fund raising trips to raise money for much needed charities, as well as helping organisations with projects they already have in place.
The brand new, three seater Ford Transit van was sourced from one of Autonet Insurance's main affiliates, Evans Halshaw, a major car and van dealership, who kindly leased the broker the modern 3.5 litre diesel vehicle on a 12 month contract without a charge.
The graphic design team have created a personalised, unique graphic to advertise the companies Advantures project through local cartoon graphics such as bottle kilns, a historical feature associated with Stoke on Trent and pottery work. Local signage company, M&M Signs and Graphics, will use the imagery to 'wrap' the van with the Advantures illustration, aiding the promotion of their charitable work.
Due to obvious connections within the industry, the UKs largest independently owned van insurance broker was able to secure insurance through one of the leading insurers within the UK. Royal Sun Alliance agreed to provide insurance cover for the vehicle, again at no extra cost to the broker. All companies involved with the Advantures project recognise the fundraising potential and have not added any other costs due to the nature of the work.
For the first Advanture, Autonet Insurance will be loaning their van to Neil Fowler, a physiotherapist at Chester Hospital. Neil has a 4 year old daughter called Ciara who has been diagnosed with a neurodevelopmental disorder called Rett Syndrome. This awful illness is commonly found in young girls and effects development at an early age. Skills learnt in childhood such as crawling, walking, the use of hand movements and feeding are cruelly lost and children over time regress, causing development to cease. Further problems can arise such as breathing difficulties, digestive issues, disrupted sleep patterns and seizures. This illness is often described as having symptoms such as Cerebral palsy, Parkinson's and anxiety disorders all at the same time in one tiny defenceless little girl.
At present, there is no treatment or cure for Rett Syndrome and life expectancy is significantly reduced. Neil, along with a close friend Sion Owen, have set themselves a challenge to cycle from the ancient Roman Amphitheatre in Chester and finish their challenge – 'Daddy of all Amphitheatres', at the Colosseum in Rome, covering an impressive 1400 miles in 14 days, raising much needed funds for Rett Syndrome Research Trust UK.
Their route will consist of cycling from Chester to Dover, crossing the English Channel by ferry to Calais, and then cycling through eastern France before reaching Switzerland. Here they will tackle the daunting task of negotiating the Alps before entering Italy and following the Mediterranean coastline to Rome.
Neil, very directly writes on his 'Just Giving' page: "I don't view this as some life experience or personal challenge... It is quite simply a way of trying to ensure a brighter future for my daughter, Ciara, and other girls who have been diagnosed with Rett Syndrome".
Following on from Neil's heart felt words, the Advantures team also commented: "This is a very exciting project that has taken many months to plan. We have always looked at innovative ways to raise money for charitable causes and this is our biggest idea to date. There are lots of fun, interesting 'Advantures' which are currently being worked on and when we were approached by Neil and asked if we could loan him and his team the Advantures van for this amazing event, the decision was an easy one to make. All of the staff at Autonet Insurance wishes him the very best of luck, and hope he can raise as much money as possible for his daughter Ciara and other little girls with the same condition."
For full details of Neil Fowler's challenge and his 'Just Giving' page please visit:
http://www.justgiving.com/Neil-Fowler1-Home2Rome-Cycling2CureCiara
You can also follow Neil and his team to see how their challenge is going via our webpage: