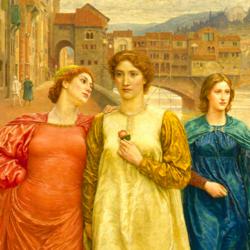 LOS ANGELES (PRWEB) May 01, 2013
The complicated clues in Dan Brown's "Inferno" may now be easier to decode due to a small book filled with illustrations collected by Sanford Holst. The first two chapters of "Inferno" show how difficult it is to follow Robert Langdon and other people through the streets, clues and passageways of Florence. That challenge led to the recent publication of these many remarkable and helpful images in "Dan Brown's Inferno Illustrated."
Among the questions this book helps to answer are: who is the mysterious woman in Langdon's view of inferno? Where do the "secret" passageways of Florence actually run? Who is buried headfirst into the mud of hell and why? Additional clues for these and many other questions are found in the illustrations and explorations of "Dan Brown's Inferno Illustrated."
The mysterious woman in Langdon's vision of hell tells him to "seek and find." In a similar manner Beatrice, the love of Dante's life, appears in the earlier "Inferno" and gives Dante good counsel. How closely will these two ladies be tied? Strange clues continue to pile up, but with this small guide they now make more sense.
Sanford Holst is a noted historian and the author of "Templar Inferno," the true story of Templars who survived when hundreds of their brothers were burned at the stake. Those shocking deaths inspired Dante to write his "Inferno." But brave deeds by the survivors had an even larger impact on Europe and the New World.
Santorini Publishing has published these books as part of its focus on new views of popular subjects in history and the modern world. These books are in worldwide distribution.