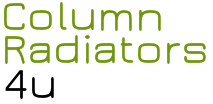 ...the early signs indicate that creating this niche site was a positive decision...
Portsmouth, Hampshire (PRWEB UK) 7 May 2013
The site was launched in early 2013 to cater for the rapidly growing niche market of column radiators. Despite being a narrowly focused market, these products are increasingly considered among industry commentators and consumers as a modern-day classic heating installation. During the first few months of trading, CR4U has seen impressive amounts of traffic to its website, http://www.columnradiators4u.co.uk/, along with good conversion levels.
This initial success has led to CR4U reviewing its expansion plans as the company seeks to maximise the popularity of its product. The key to this popularity lies in the flexibility of column radiators, which are cited by designers and industry commentators as revolutionising home heating solutions. The variety in size and shape means that they are adaptable and can be installed in nearly any room in most consumer environments. The modern manufacturing and finishing process means that these products are efficient, and deliver high heat output.
This success reflects growing sales within the bathroom goods industry, one of few industries to experience growth during the current difficult economic climate. Column radiators tend to be more affordable than luxury or bespoke heating solutions, and so have thrived as consumers seek to minimise their outgoings. Steve Jordan, marketing manager at CR4U, insists that the timing of the launch has proved instrumental in its early success.
"We launched the site simply because of the continued increasing popularity of column radiators," he says. "Our experience in the bathroom industry meant that we saw this popularity grow from the early launches of the product. That said, we are still impressed by how successful the site launch has been and how much demand there is for this product. The early signs indicate that creating this niche site was a positive decision."
The site itself forms part of a wider industry that is booming in the United Kingdom. Online retail accounted for nearly one sixth of all retail sales in 2011, and increased by a further 50% the following year. In 2012, the online retail industry was worth £78bn to the UK economy, and leading economists have predicted that this could rise by another 50% in 2013, almost single handedly propping-up flagging business growth in the UK.
That CR4U has positioned itself within this growing industry is an astute move, though to those outside the industry the narrow focus of the site may seem restrictive. Jordan highlights the various forms of column radiators that are available within the sector that provide the business with diversity in its product range.
"Column radiators actually come in a variety of shapes and sizes," he says. "They start at two-columns deep and can be manufactured to six-columns deep, making them adaptable for any home. It is this flexibility that has secured the popularity of these products."
While CR4U has witnessed immediate success, the business is still in its infancy. The firm's declaration of its expansion is a statement of intent that could cement it as the go-to site in this niche market.