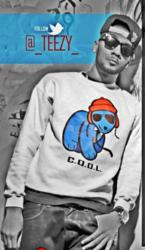 "In my music, I paint the picture to my fans and create this inspiration to strive as I did to follow your passions and goals."
New York, NY (PRWEB) May 02, 2013
The relationship between music and fashion has long been associated with one another, sharing the attribute that they are both used as vehicles of expression as well as marketing mechanisms.C.O.O.L. Clothing has incorporated these two facets to create a fun and unique way of bringing brand awareness to its "cool" lifestyle fashion brand by teaming up with the rapidly budding rap artist, TeeZy, to produce his new mixtape entitled, "C.O.O.L. – Creative Outlook On Life."
Following in the vein of C.O.OL.'s motto, "Create Your Own Path"; sensational rap artist TeeZy's lifestyle and music captures the essence of this catchphrase. After creating an extensively growing buzz in the State of Texas; building his foundation in the cities of Houston & Dallas, TeeZy now has the hip hop world anticipating the release of his new mix-tape, "C.O.O.L. – Creative Outlook On Life" hosted by the world renowned DJ, influential radio personality, and street tastemaker, DJ Smallz. With DJ Smallz, who has hosted mixtapes for signed artist such as Drake, B.O.B., Yo Gotti and more, co-signing him, TeeZy is bound to be the next superstar that will be a household name. On the mixtape, C.O.O.L., TeeZy delivers a candid and uncanny relatable themed message. He is differentiated from other rap artist through his message, while most rappers glorify their expensive assets such as; cars, beautiful women, extravagant lifestyles, and expensive taste; TeeZy delivers an authentic and relatable tale that all individuals recognize, share, and aspire to achieve which is, "the vision to dream big and defy all odds while aiming to attain our closest and most precious inner dreams."
Maintaining a Creative Outlook On Life, TeeZy accomplishes this through his message in his music. TeeZy believes his music not only fits with the C.O.O.L. brand but he believes he is the C.O.O.L. brand. "Being raised in the notorious neighborhood in Dallas, TX of Highland Hills, I come from an area where very few survive or have the opportunity to succeed. I embraced that struggle and created my own path by following my dreams, which is what the C.O.O.L. brand is all about. In my music, I paint the picture to my fans and create this inspiration to strive as I did to follow your passions and goals."
Although C.O.O.L. is a lifestyle clothing brand, Founder and CEO, Ian Shaw is elated at the opportunity to pair the music with fashion. "I can't wait until people hear the music. It's a great body of work that ties into our company as a lifestyle fashion brand. We are extremely honored to have someone of TeeZy's caliber to be a brand ambassador of C.O.O.L., and for him to place it in his music is really a great opportunity for our brand."
In an industry where it can easily become oversaturated by artist Teezy effortlessly distinguishes himself from the pact, as stated by the world renowned DJ Smallz "TeeZy is a breath of fresh air, and an addition to the rap game in whom I think will be force to be reckoned with in the years to come.