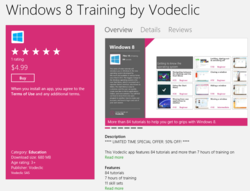 Several hundred apps have been sold to date, all in just one month.
Paris, France (PRWEB) May 01, 2013
Vodeclic, the online desktop training specialist, has announced that its training courses are now available in Windows 8 app form. The apps hit the Windows Store, Microsoft's online app marketplace, just a few weeks ago and have already proved extremely popular with users.
Since the commercialization of its product in 2009, Vodeclic has experienced rapid and extensive growth. Today, over 300,000 French- and English-speaking learners use the company's online desktop training solution to improve their digital skills. The new Windows 8 apps, currently averaging dozens of paid downloads per day, take advantage of the innovative Windows 8 design and simple purchase structure to offer an entirely new training experience.
More than 100 French- and English-language apps can now be downloaded by Windows 8 users intent on developing their digital and desktop skills in some of the most popular and innovative software programs available on the market today, including Microsoft Office 2013, Adobe Photoshop, Yammer and WebEx.
"Our apps are attractively and affordably priced, between $3.49 and $9.99 depending on the subject, and have quickly proved popular with users. Several hundred apps have been sold to date, all in just one month," explained Xavier Sillon, Vodeclic's CEO and co-founder. "Already, half of the apps found in the education category's top paid chart come from the Vodeclic catalog."
Vodeclic apps are available for purchase in all French- and English-language Windows Stores worldwide, with 40% of sales coming from France and 34% from the US. In the UK, "Excel 2013 Training" is the most downloaded Vodeclic app, while over in the US the most popular download is "Microsoft Office Professional 2010 Training".
"Not only is the popularity of our apps a clear vindication of our recent decision to diversify our delivery methods, and exploit alternative, consumer market-oriented distribution channels, but it also represents an exceptional opportunity for further development on the international stage," Mr. Sillon added in conclusion.
Images and screen captures are available on request. Click here to open the Windows 8 Training app in the Windows Store.
Created in 2007, Vodeclic is a developer of SaaS-based desktop training solutions. Some 300,000 users worldwide have been won over by its innovative training approach, exclusive and constantly evolving catalog – which today features more than 12,000 tutorials (in French and English) on over 400 software applications – and extensive learning services, management tools and business insights.
A leading training partner to businesses, educational institutions, libraries, training centers and individual users, the Vodeclic solution has been embraced by over 4,000 clients, including Thales, Orange, EDF, ARTE and the University of Lausanne.
Since the commercialization of its training solution in 2009, Vodeclic has experienced rapid growth and today employs 18 full-time members of staff.