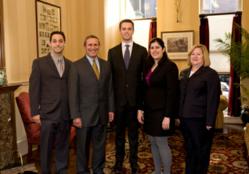 (PRWEB) May 02, 2013
The Law Firm of Pozzuolo Rodden, P.C., Philadelphia Business Attorneys, announces the upcoming in person or via webcast seminar titled: The Negotiation and Documentation of Commercial Financing Documents Including the Use of Convertible Loans With Put and Call Options on Wednesday, May 15, 2013. If you would like to read more of what the seminar will cover, please read the full description on Pozzuolo Rodden's web site under Seminars: http://www.pozzuolo.com
The Negotiation and Documentation of Commercial Financing Documents Including the Use of Convertible Loans With Put and Call Options
By: Joseph R. Pozzuolo, Esquire
Pozzuolo Rodden, P.C.
Course Description And Learner Objectives:
Today's banking environment has changed. Banks have been consolidating and expanding at the same time with new names showing up everywhere. As a result loans are being negotiated and closed with rates and terms that are different than ever before. Attorneys and CPAs who represent businesses are constantly challenged by the complexities of obtaining a commercial loan commitment and proper loan documentation. This seminar is designed to provide attorneys and CPAs with the necessary tools, framework and strategies to have a fundamental working knowledge of what is needed to know to serve clients on matters of loan negotiation and documentation. The seminar will cover the entire spectrum of commercial loans from negotiating the commitment letter, the different types of commercial loans, including convertible loans coupled with the right to convert the debt, debenture or warrants to an equity position, alternatives to bank financing, loan documentation, legal opinion letters and workout alternatives. This seminar will review a wide range of planning and practice for both the seasoned practitioner and those general practitioners first entering the commercial borrowing field. Each lawyer and accountant who advises clients on matters of commercial loans and workouts needs re-education to remain effective. The seminar will dissect the negotiating process, share winning strategies and identify both deal makers and deal breakers.
If you would like to read more of what the seminar will covert, please read the full description on Pozzuolo Rodden's web site under Seminars: http://www.pozzuolo.com
Pozzuolo Rodden, P.C. provides specialized cost-effective legal services to privately held business owners and high-net-worth clients in Pennsylvania and New Jersey in excess of 35 years.
Practice Areas:
Business planning and transaction, complex business litigation, commercial real estate and development, construction law and litigation, advanced estate planning and administration, tax and pension law, high profile and intricate family litigation, and employment law and litigation.
Pozzuolo Rodden, P.C.
Counselors at Law
2033 Walnut Street
Philadelphia, PA 19103
215-977-8200
http://www.pozzuolo.com