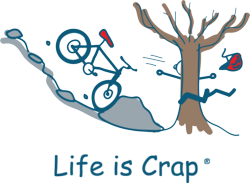 Life is Crap re-opens their popular outlet store!
Manchester, Vermont April 27, 2013 (PRWEB) May 01, 2013
Life is Crap, a small and very funny tee shirt and gift company tucked away in the foothills of the Green Mountains of Vermont, lives by the credo "Crap happens and laughter is the cure." They will be re-opening their incredibly popular Life is Crap Outlet Store beginning May 1.
The Life is Crap outlet store, closed earlier this year for spring cleaning and re-modeling, will once again be open for business offering loads of Crappy products at incredibly Crappy Prices for all of its Crappy Customers! The hysterical Life is Crap expressions celebrate all of life's little mishaps while putting a smile on one's face. The outlet store will feature a limited amount of their best-selling designs on their popular 100% cotton, pre-washed, funny tees, along with other great gift items like books, magnets, key rings, mugs and stickers.
Dean Darling, Studio Manager, says, "Life is Crap products make you laugh, put a smile on your face and help you take the worries away. Doctors the world over attest to the healing power of laughter."
Life is Crap products make the perfect gift for the friend or family member who has everything. The subjects range from being Out of Beer or Out of Wine to Mountain Biking Crashes, Golf, Bowling, Household Chores and Speed Traps. Throw in everyday moments like getting busted, crappy work situations, paying one's taxes plus dozens of others and you know "Life is Crap".
The team at Life is Crap likes to point out that they are the eternal 'realistic optimists.' There is a big difference between Life is Good and Life is Crap, because "we tell it like it is," say King of Crap, Paul Wheeler, an owner of the company. Sometimes Crappy things happen to good people – but in the end, "laugher is the cure"! Visit their incredibly funny site at http://www.lifeiscrap.com for more information on great products and lots of great deals.