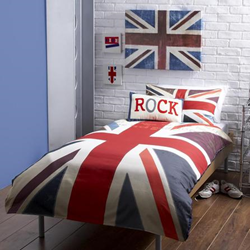 This royal commemoration has reignited the nation's love for all things British.
(PRWEB UK) 1 May 2013
This royal commemoration has reignited the nation's love for all things British, from red, white and blue clothing to stylish Union Jack inspired home designs.
Whether looking for a subtle nod to the traditional British style or love all things Union Jack, Dunelm offers the ideal way to create a fashionable GB home. Some rooms lend themselves to this style better than others, allowing the iconic flag to be easily incorporated without looking overly dominant. Dunelm details the top four rooms that will be perfect for showcasing a Union Jack design.
1. Child's Bedroom
Children are often big fans of bright, bold colours and so the addition of a Union Jack based item can often create a wonderfully colourful and unique décor. At Dunelm, we offer a fantastic selection of union jack bed linen. The addition of such vibrant and bold bed linen can help to update the whole look of a room without the expense of a total overhaul. The flag like design will act as a focal point to the room and help to bring other home furnishing items to life, such as a pair of blue curtains or a simple plain carpet.
2. Kitchen
The kitchen is often considered to be the heart of the home, with many family meals and interactions taking place. Why not invest in a monarch inspired mixing bowl to help add that touch of British glamour to a bakeware set? Not only a handy addition to your kitchen essentials, the kids will love the brightly coloured bowls, ideal for whipping up some delicious Union Jack inspired cup cakes!
3. Dining Room
There's nothing as quintessentially British as afternoon tea. Those tiny triangular shaped cucumber sandwiches mixed in with a delightful range of scones, cream and jam can be the perfect way to spend an afternoon with friends. Why not whip up some British classics and display them beautifully on an ornate cake stand with vintage look cups, sauces and tea pot.
4. Garden
It may be a long time coming but the Great British summer is on its way. What better way to welcome back the sun than with a brightly coloured Union Jack deck chair, ideal for catching those last rays of sun during the weekday evenings. These deck chairs will add the perfect touch of contemporary style to a garden whilst also being a practical addition to the home, perfect for the royal celebrations and BBQs over the coming summer months!