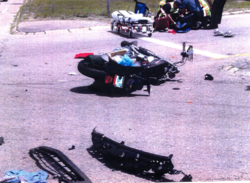 Cranston, RI (PRWEB) May 02, 2013
Following a recent motorcycle accident, Rhode Island personal injury lawyer Mike Bottaro helped his client to win a pre-suit settlement of $100,000 to cover injuries resulting from a motorcycle accident.
According to the settlement of claim YYV306 in Bristol County, Massachusetts, the client suffered serious injuries – including a left temporal intracerebral hemorrhage and an L2 compression fracture – when another motorist drove her sports car onto the roadway while reading a text message, causing a head-on collision. Attorney Bottaro used police evidence and eyewitness reports to establish that the defendant was at-fault for causing the accident.
"Following our firm's investigation, we pursued a maximum benefits, policy limit settlement of $100,000," said Rhode Island motorcycle accident attorney Mike Bottaro, owner of the Bottaro Law Firm. "With the increasing number of motorcycles on the road and the corresponding increase in motorcycle fatalities, I would say that motorcycle safety is a top public health concern right now."
Attorney Bottaro has long been an advocate for safe driving, including campaigns to prevent texting while driving and to promote motorcycle safety. In the interest of safety for motorcyclists and other motorists, Attorney Bottaro suggests the following CDC-approved tips:

Never ride your motorcycle after drinking
Don't let friends ride while impaired
Always wear a DOT-approved helmet
Wear protective clothing that provides injury protection
Avoid tailgating
Maintain a safe speed and exercise caution when traveling over gravel or slippery surfaces
With over a decade of experience as a Rhode Island bike accident lawyer, Mike Bottaro has seen firsthand the legal ramifications of alcohol related motorcycle accidents. The Bottaro Law Firm strongly advocates for bike safety while fighting to earn just compensation for injured victims.
About The Bottaro Law Firm
Bottaro Law's Rhode Island personal injury lawyers serve clients throughout Rhode Island and southeastern Massachusetts. The firm's practice areas include general personal injury, car accidents, motorcycle accidents, medical malpractice and more. Injured individuals can request a free consultation by calling 1-866-LAW-9700 or visiting http://www.bottarolaw.com.