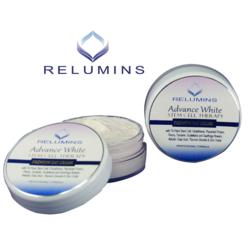 Asbury Park, NJ (PRWEB) May 02, 2013
Relumins, a brand that is always on the cutting edge of pharmaceutical-grade skincare, has developed a cream that does it all. The Relumins scientists and product engineers, who have access to world-class data and research, have created a TA – Stem cell day cream to target signs of skin aging. So what is TA- Stem Cell therapy and how does this wonder cream work?
Relumins unveils the first whitening & aging cream to combine Placental Protein and TA- Stem Cell to actually make your look younger and healthier. The Relumins TA-Stem Cell Therapy day cream uses Biocellact CHAMOMILLA BD a natural anti-aging ingredient extracted from Chamomile flowers, to slow down aging and production of TA-Stem Cells causing a delay in skin wrinkles and dryness. Laboratory tests not only prove that Biocellact CHAMOMILLA BD slows down aging of TA-stem cells but keeps them in vital condition. Keeping the TA-Stem cells in vital condition, with the combination of stimulating collagen, delays new wrinkle formation and allows skin a smoother, firmer, more youthful appearance.
"Skin whitening products are often drying to the skin, the new Relumins face cream is the opposite, and it absorbs deep and leaves the skin feeling hydrated and fresh. After a few weeks of use the skin is noticeable different with fine lines lightened." – Says Suzzy of Flawless Beauty and Skin
This amazing new formula is designed to whiten skin, and help you achieve a healthy even glow. The active ingredients are nestled in a light micro gel-cream designed to hydrate and deeply absorb into the skin. Having the cream penetrate deep into the skin's layers, allows the ingredients to breakdown dark pigments and prevent new pigment formation. Placental Proteins are also used to help revive tired damaged skin as well as stimulate healthy skin repair. The Relumins TA- Stem Cell formula uses not only active ingredients but also UVA/UVB sun protection, which helps prevent premature aging.
Relumins was developed for people worldwide who demanded high quality effective skincare products without filler ingredients and produced in a state of the art facility. Their commitment to their growing international customer base is to offer complete transparency when it comes to products, processes and the ingredients used. The entire Relumins brand is produced in compliance with United States FDA regulations, and in accordance with strict industry and safety guidelines. This skin care brand guarantees the integrity of the ingredients and the compositional makeup of their products, something rare in the marketplace.
The growing Relumins product line targets all skin care needs, including skin whitening, anti-aging, skin brightening, melasma, age spots, acne control & underarm and intimate specialized products, put them at the leading edge of natural skincare, & lifelong beauty. Relumins uses product descriptions that are clear and informative. When describing the product, the ingredients are each defined with specific benefit and health attribute. Directions, warnings, and possible side effects are all clearly listed. No wonder why this product line is already receiving rave international reviews.