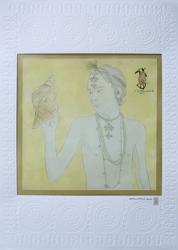 Brooklyn, NY. (PRWEB) May 01, 2013
There is the obvious influence of Asia in artist PD Packard's prints, watercolors and hand-bound books. Being included in the 2013 Guanlan International Print Biennial this May only furthers Packard's interest in Asia and China's historical print industry. The biennial will be held at the Guanlan Original Printmaking Base that makes up an actual village, a center dedicated to printmakers. The printmaking complex is located in an ancient fishing village in the Bao'an District of Shenzhen, close to Hong Kong.
Since 2008, Packard has been studying Chinese calligraphy in Brooklyn, with artist and teacher Kwok Kay Choey. Packard finds that calligraphy - learning the brush strokes - is a starting point for creative energy. She has helped third graders in the PS 261 elementary school in the Boerum Hill neighborhood of Brooklyn gain a better understanding of the Chinese culture by teaching them calligraphy and brush painting during the Chinese New Year.
This year Packard co-chaired the second annual Arts Day Festival at PS 261, held February 1. Members of the PTA Arts Committee in collaboration organized the festival with teachers, parents, students and the community. On Arts Day, over 40 artists were brought into the school for a day of visual art, theater, dance, design and music. All the artists offered their talents so that every class in the school participated in a hands-on workshop, including Packard who taught 5th graders a workshop on Itajime Shibori, a form of Japanese decorative papermaking.
In August, 2012 Packard was invited by artist, blog writer and author, Seth Apter to be a Spotlight Artist in his second book, The Mixed-Media Artist: Art Tips, Tricks, Secrets and Dreams From Over 40 Amazing Artists, to be released October 2013 by Northern Light Books, part of F+W Media. The premise of the book is to "take the pulse of the community of artists whose work cuts across all the different approaches to mixed media art." Packard created two unique pieces of artwork specifically for Apter's new book that provides an open door into her creative state of consciousness.
2013 Guanlan International Print Biennial
Mid May - Mid June 2013
Guanlan Original Printmaking Base
Yuxin Road
Guanlan Street, Bao'an District
Shenzhen 518110, China
Tel 86.755.29782520