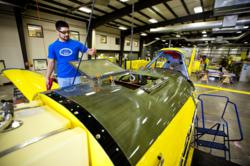 We are seeing a continuation of the strong demand that we experienced in 2012.
Olney, TX (PRWEB) May 01, 2013
Air Tractor, Inc. president Jim Hirsch reports that the aircraft manufacturing company is on track for another strong year of production and sales in 2013. "First quarter 2013 orders and aircraft production is robust, Hirsch says. "We are seeing a continuation of the strong demand that we experienced in 2012."
Air Tractor, Inc. finished 2012 having sold a total of 180 airplanes. This is a new all-time company sales record, exceeding the previous year's production record. "Just over half of our aircraft sales are exports, which reflects the strong market presence our global dealer network has in key markets. We are all very pleased with the great work of our international dealers" Hirsch added.
Here in the United States, growers are expecting a better year as compared to 2012 when many areas were plagued by drought. Hirsch reports that Air Tractor dealers in the U.S. are stepping up to meet the needs of aerial applicators, who are also predicting a banner year of crop production. Orders for new aircraft are driven by demand for commodities, Hirsch says. As growers invest more in crop protection products to maximize their yields, aerial applicators are placing orders for more aircraft to answer that demand. "With the efforts and investments that we've made at Air Tractor to increase our aircraft production over the past several years, the company is well positioned to meet the demand," says Hirsch.
"As an employee-owned company, we have met the challenge of increasing production. Our employee owners continue working hard to maintain the high standards of quality that ag aircraft operators have come to expect from Air Tractor." The focus at Air Tractor is on quality, Hirsch says—and on working smarter to streamline the aircraft production process.
It's a very busy time at Air Tractor these days. Hirsch says that when ag aircraft operators want the most aerodynamically efficient load hauling agricultural or firefighting plane in the world, Air Tractor is their first choice because of product quality, product availability, and a dealer support network that's the best in the business.
ABOUT AIR TRACTOR
At its Olney Texas manufacturing facilities, Air Tractor produces a line of eight aircraft that includes 400, 500, 600 and 800-gallon capacity planes powered by Pratt & Whitney engines. They are used for agricultural purposes, fire fighting, narcotic crop eradication, fuel-hauling, fighting locust plagues, military strike/reconnaissance, and cleaning up oil spills in coastal waters. From North, South and Central America, to Australia, Indonesia and China to Spain, Italy, Croatia and Africa, Air Tractor aircraft can be found in more than 30 countries around the world and are supported by a global network of Air Tractor dealers.