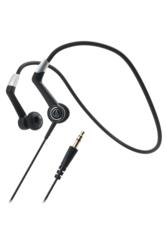 What better way to unwind than listening to favorite music on headphones while relaxing or working out?
Stow, OH (PRWEB) May 07, 2013
Audio-Technica appreciates the fact that moms lead busier lives than ever. What better way to unwind than listening to favorite music while relaxing or working out? Audio-Technica's new SonicSport fitness-oriented headphones, affordable Core Bass and Clear models and noise-cancelling headphones are sure to be appreciated by moms everywhere this Mother's Day and year round.
For active moms, Audio-Technica's SonicSport in-ear headphones are designed for stay-in-place fit for jogging, sports and exercising. The ATH-CP700 (SRP: US$99.95) model has a built-in microphone and an in-line volume and music playback control for the iPhone®, smartphones, portable music players and other devices. It features a headband that wraps around the back of the head and has a flexible pivot ear-fit design directs clear audio and impactful bass toward the ear canal, while allowing awareness of outside sounds.
The ATH-CKP-500 headphones (SRP: US$74.95) feature secure-hold C-tip earpieces that nestle in the outer ear, while the ATH-CKP200 has a hinged ear hook that adjusts around the ears. The ATH-CKP500 and ATH-CKP200 are offered in a variety of appealing colors and have SX/S/M/L choice of sound isolating eartips, and ridged eartips to allow a low amount of ambient sound for greater safety outdoors. (The ATH-CKP200 will also be available in Staples stores in May.)
The Core Bass ATH-COR150 and Clear ATH-CLR100 in-ear headphones bring superior sound quality to extremely attractive price points at US$19.95 and US$14.95 SRP respectively. The ATH-COR150 features snap-on/snap-off oval ear hangers and the ATH-CLR100 is an in-ear canal-style. Both come in a variety of vibrant colors with a cord wrap that encloses the headphones for carrying convenience.
What mom doesn't like a little peace and quiet sometimes? Audio-Technica's QuietPoint® active noise-cancelling (ANC) headphones provide up to 90% noise-cancellation to let moms enjoy favorite music without the distractions of the outside world. The new ATH-ANC33iS in-ear model (SRP: US$79.95) offers smartphone answering, music playback and volume control capabilities, and it joins the other in-ear, on-ear and over-ear models in the Audio-Technica QuietPoint lineup including the top of the line ATH-ANC9 (SRP: US$349.95), winner of an Innovations 2013 Design and Engineering Award.
...ends
Celebrating over 50 years of audio excellence, Audio-Technica is renowned worldwide for a
broad range of consumer and professional audio products, including high-performance
headphones, microphones, wireless systems, turntables and phono cartridges. Winner of
numerous industry awards, Audio-Technica designs and manufactures products that set
quality, durability and price/performance standards for major concert tours, broadcast and
recording studios, corporate and government facilities, theaters, house-of-worship venues,
and consumer applications.
# # #
— For more information on the complete range of Audio-Technica products, contact
Karen Emerson or Crystal Griffith, Audio-Technica U.S., Inc., 1221 Commerce Drive,
Stow, OH 44224. Tel: (330) 686-2600; Fax: (330) 688-3752; Web: http://www.audio-technica.com.
— For further information regarding product availability and pricing in the United Kingdom,
please contact Harvey Roberts (hroberts(at)audio-technica(dot)co(dot)uk); in Germany, please contact Anja Groth (a.groth(at)audio-technica(dot)de); in the rest of Europe, please contact Evangéline Pirot (epirot(at)audio-technica-europe(dot)com).
iPhone is a trademark of Apple Inc.