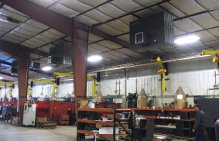 Exposure to mineral oil mists can cause eye, skin, and upper respiratory tract irritation as well as central nervous system effects in humans. In addition, certain mineral oils are carcinogenic in humans [Hathaway et al. 1991]. - OSHA
Somers, CT (PRWEB) May 01, 2013
Aquest Corporation has been a leader in the design and installation of dust collection and oil mist collection systems for 27 years. Due to recent changes to regulations regarding air quality and combustible dust, Aquest Corporation has manufactured new equipment like, the Quest Air OM500, and represented quality systems like, the Industrial Maid T-Series, to offer the best possible solutions to meet customer's needs.
Combustible dust has been at the forefront of OSHA citations and fines since 2009. OSHA has maintained their presence in the manufacturing setting while addressing new air quality issues.
Aquest Corporation has made it a priority over the past four years to educate customers and install dust collection and oil mist collection systems to meet the regulations put forth by OSHA.
EASTEC is the largest technology show in New England and is the perfect venue for the introduction of the Quest Air OM500 unit and the Industrial Maid T-Series ambient air cleaner.
The Quest Air OM500 unit has been designed by Aquest and manufactured in its fabrication shop in Lewiston, Maine. Aquest has recognized the demand for unitary oil mist collectors in the industry and has designed a system to contain oil mist in the machine tool producing it.
The new Quest Air OM500 unit is small and compact with a base of 16" by 16". It features three levels of filtration and can be mounted in a variety of ways. Aquest has proven this system to be effective and has over 20 units in operation at this time.
Oil mist collection has always been an issue for machining and manufacturers, but has recently become more visible to OSHA. Minimizing the amount of oil mist on horizontal surfaces, trusses, and from the air stream is pivotal to reducing employee health hazards and fines.
The Quest Air OM500 unit works only for source capture applications relating to oil mist. The Industrial Maid T-Series system works only for ambient air cleaning applications and can be configured for oil mist collection and dust collection.
The Industrial Maid T-Series ambient air cleaner is made of a polyethylene cabinet shell. It is lightweight and produces effective push/pull air patterns. This system can be hung from the ceiling or placed on a stand.
Aquest Corporation takes pride in providing an array of high quality equipment to meet the needs of every customer. These two units are an effective alternative to large systems that cost a lot of money and consume a lot of energy.
Aquest will be giving away a free Industrial Maid T-Series unit at the upcoming EASTEC show and recommend attendees to stop by booth 3151 to enter a chance to win.
Aquest Corporation is a 27 year old environmental engineering firm located in Somers, CT and Saco, ME. Aquest designs, engineers, installs, and services a complete line of industrial air filtration and air pollution control equipment.
Please consult Aquest Corporation for all your present and future dust collection and oil mist collection needs. Aquest can be found on the web at http://www.aquestcorp.com and can be reached at 860-749-3938.