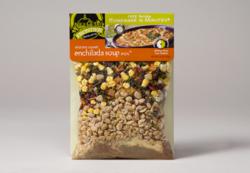 The Enchilada Soup provides authentic Mexican taste and brings families to the table with the promise of something new, different and really delicious.
WAUKEGAN, Ill. (PRWEB) May 01, 2013
Frontier Soups™, a producer of all natural gourmet soup mixes, is introducing a new gluten-free soup, Arizona Sunset Enchilada Soup Mix, to satisfy home cooks' desire for delicious, new ideas for dinner with an international flair.
The new Enchilada Soup expands the Homemade-In-Minutes™ line of quick-cooking and easy to prepare soup mixes, and features a Southwestern flavor profile with the warmth of chili seasonings and epazote, a spice used in many traditional Mexican dishes, said Trisha Anderson, founder of Frontier Soups.
"Our customers have shown they are hungry for more assertive flavors by making our South of the Border Tortilla Soup the best seller in the Homemade-In-Minutes line, and the Enchilada Soup also provides authentic Mexican taste and brings families to the table with the promise of something new, different and really delicious," Anderson said. "Our mission is to ensure our soups satisfy consumers who are looking for culinary adventure, yet remain faithful to the regional American recipes for which we are known. So we are drawing on America's rich immigrant heritage for inspiration, which also inspired our Hungarian goulash and Italian wedding soup."
Laboratory testing by the Institute of Agriculture and Natural Resources Food Allergy Research & Resource Program at the University of Nebraska verifies that the gluten content in the Enchilada Soup and 27 other gluten-free mixes is below level of quantification. They also have met all the requirements of the Celiac Sprue Association® Recognition Seal Program, she said.
The Enchilada Soup mix is rich with navy beans, sweet potato, onion, red and green bell peppers and corn. Home cooks add cooked chicken, salsa verde or green chile enchilada sauce, and shredded cheese. With a nod to the creamy sauce of a classic enchilada Suiza, sour cream may be added as an option, Anderson said. "We also have included an inventive variation recipe on the back of the package for a healthy Mexican chili made with ground turkey, which gives our customers another easy, new idea for dinner," she added.
In addition, Frontier Soups has extended the availability of its new Mother's Day Soup Gift Basket through Friday, May 3, for shipping in time to honor Mom and other special women on Mother's Day, which is May 12. The purchaser has the choice of two Homemade-In-Minutes soup mixes, a gourmet cornbread mix and delicate butterfly shaped shortbread cookies as a sweet treat, Anderson said. The gift basket is priced at $18.95.
Frontier Soups offers 34 varieties of soup mixes, including 11 vegetarian soups or soups with vegetarian variations, including its best selling corn chowder. Twenty-eight of the soup mixes are gluten-free soups like chicken noodle soup, white bean chili and minestrone soup. All of the soup mixes are based on traditional regional American recipes and crafted to deliver familiar flavors faithfully for a shortcut to homemade taste, Anderson said. More information about the company's products is available online at FrontierSoups.com or by calling 1-800-300-7687.
About Frontier Soups:
Frontier Soups™ has offered aspiring and accomplished home cooks a shortcut to healthy, homemade meals with 34 soups, stews, chili and chowders inspired by the finest traditions in American regional cuisine since 1986. The gourmet soup mixes, including 28 gluten-free soup varieties, are available in such outlets as A Southern Season, Whole Foods, Central Market, The Fresh Market, Safeway, Great Harvest Bread Company and Omaha Steak stores, through national and Canadian distribution and online at http://www.FrontierSoups.com. The company is located at 895 Northpoint Blvd., Waukegan, IL 60085. More information is available online or by calling 1-800-300-7687.