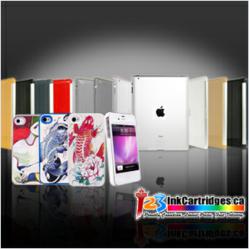 Montreal, Quebec (PRWEB) May 02, 2013
An online supplier of the highest quality networking accessories, HDMI cables, office supplies,
printers, cellphone and gadget accessories among other products, 123inkcartridges.ca recently
added iCircle Bagbrick Premium Combo for the iPhone 5.
More flexible than a dock and more durable than a cover, iCircle Bagbrick Premium Combo is
innovative and comes with a swivel circle stand for the iPhone 5 device. Dust free, light weight,
easy to carry, and with a stylish brick pattern, this combo also included cases from Bagbrick
that offer the iphone 5 efficient protection against bumps and scratches. iCircle has a four-bar-
linkage mechanism design folding in a circle and is made of an aluminum circle ring with spin
cutting finish.
iCircle Bagbrick Premium Combo is are available in both black and white offer 4 kinds of views
for every common functionality such as online reading, watching movies, viewing photos, and
even typing on the iphone 5 on a desk with a single click. This is accomplished through the
die casting metal hinge with solid and durable functionality. The entire line of iCircle Bagbrick
Premium Combo can be viewed at http://www.123inkcartridges.ca/catalog/search?q=Bagbrick+Premium+Combo. Apart from interior soft, specially designed and padded EVA interior made of velvet that keeps the device scratch-free and a dual zipper for easy access and storage, these cases are made of tear-resistant surface material for that comfortable feeling in the hand.
123inkcartridges.ca has assembled a friendly and knowledgeable Customer Service Staff that
successfully meet the needs of a growing customer base. Apart from products like these,
interested and potential customers can also take a look at the other products as well.iCircle
Bagbrick Premium Combo that offers Holding, Portrait, Landscape and the Typing mode through a ring made of patented material to hold the device at a perfect angle is a sensible and smart choice that also comes along with a carrying case. With the facilities to handle 100% of their product fulfillment, 123inkcartridges.ca believes in purchasing only the best and the highest quality of products and iPhone 5 accessories for their customers from leading and
renowned brands. Apart from making their own inventory purchases, the company offers a
number of products at affordable prices along with quick delivery and a 30 day no quibble
money back guarantee.
About 123inkcartridges.ca
One of the fastest growing online suppliers of printer and computer related products,
the full line of products of Canada based 123inkcartridges can be viewed online at
http://www.123inkcartridges.ca. The company has more than 10,000 products in their catalogue that is constantly updated to include the best and the latest products.