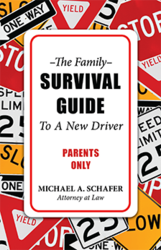 It is actually two books in one. I wrote to the parents and Rachael wrote to the teenagers
Louisville, KY (PRWEB) May 01, 2013
Attorney Mike Schafer recently released his new book titled "The Family Survival Guide to a New Driver" which he co-authored with his oldest daughter, Rachael, with contributions from his youngest daughter, Savannah.
"It is actually two books in one. I wrote to the parents and Rachael wrote to the teenagers," Schafer explained.
Attorney Schafer said he came up with this book since there was no book available that addressed the needs of the family and the new driver from both the parents' and the new drivers' perspective.
"The Family Survival Guide to a New Driver" focuses on teaching readers safe driving habits from the various perspectives of the parent and the child.
"We tried to provide fun information that would help the family survive this exciting but trying time," Schafer stated.
Schafer's new book covers topics such as getting the driving permit, road test, graduated license, teaching teens to drive, choosing a car for teens, and car insurance.
"This book is full of driving tips and pieces of advice. It also includes commentary on how parents must deal with their teens and how teens should deal with their parents," Schafer pointed out.
As a Kentucky Personal Injury Attorney, Mike Schafer knows and understands the horrible things that can happen on the road. He hopes that through his book, he would be able to educate parents of the existing laws associated with getting a driver's license and the proper ways of teaching their children how to drive.
Visit The Schafer Law Office website and get "The Family Survival Guide to a New Driver" at no cost. Other books written by Attorney Mike Schafer are "Wrongful Death in Kentucky", "7 Potholes That Can Wreck Your Kentucky Accident Case" and "What You Don't Know About Buying Car Insurance Can Hurt You."
About Mike Schafer
Mike Schafer is sole practitioner specializing in Civil Litigation including automobile accidents, slip and fall and wrongful death cases. He helps victims of various types of accidents receive adequate compensation. He can be contacted at:
The Schafer Law Office
1218 South 3rd Street, Louisville, KY 40203
Phone: (502) 584-9511
Fax: (502) 636-4702
Toll Free: 855-487-4878
Website: http://www.mikeschaferlaw.com/