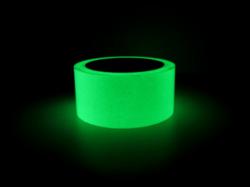 "We ship and accept deliveries during the night and I was pleasantly surprised with how well this tape illuminates our loading dock."
Lake Oswego, OR (PRWEB) May 01, 2013
Facilities that have frequent power outages and areas that require low light will reap benefits by using Glow-in-the-Dark Tape to prevent accidents. Creative Safety Supply is now offering glow in the dark tape as another solution for increasing safety in manufacturing plants, health institutions, and entertainment businesses such as theaters.
Glow tape can be applied to floors, walls, steps, equipment, and almost any flat dry surface. The tape is made from the same strong material as standard SafetyTac Tape and will glow brightly for up to eight hours when the lights go out. As with all SafetyTac tape, this tape will stay put even through extreme forklift or foot traffic. Marking aisles and steps with glow in the dark tape is an important safety standard that helps reduce accidents and will direct foot and vehicle traffic to safety areas and exits. A plant manager commented, "We ship and accept deliveries during the night and I was pleasantly surprised with how well this tape illuminates our loading dock."
Glow in the dark tape has been used in various settings besides manufacturing plants. It has become extremely popular due to its inherent usefulness. It is used extensively in institutional settings, such as hospitals and nursing homes for the elderly. Glow in the dark tape can be applied to light switches, door handles, and bed rails to help patients find their way in the dark.
Glow in the dark tape is also used extensively in live theater productions. Theater technicians use glow in the dark tape to designate the hazardous areas backstage, such as trap doors in the floor and areas that may contain cables and equipment. Anyone who has worked behind the scenes during a play or concert knows how difficult it can be to move around a dark stage.
For more information about Glow-in-the-Dark Tape, please visit http://www.creativesafetysupply.com/Glow-In-The-Dark-Tape/ or call toll-free (866)777-1360 to speak with a professional representative.