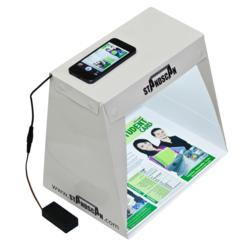 Blind and visually impaired people are now able to read with the help of StandScan.
New York, NY (PRWEB) May 08, 2013
Today, converting important documents to high-resolution digital images just became easier and more affordable than ever with the launch of the StandScan smartphone scanning accessory.
"We live in a post-PC world, and people are coming up with new ways to use their smartphones to make their lives easier" said Harry Daswani, Founder of StandScan. "It's always been a challenge to take photos of documents that mimic the quality of scanned images.
With the StandScan, even novice smartphone users will be able to scan documents, photos, certificates, name cards, receipts and more from their device's camera with ease. Our product helps professionals in a variety of fields, especially those professionals that find themselves frequently traveling.
Now, when you are away from the office and need to scan a document immediately, you can do so. Our product has been well received by B2B sales professionals, attorneys, small businesses, online sellers and more."
By providing a stable, brightly-lit platform at the perfect height, StandScan ensures that smartphone cameras produce images comparable to ones created by the best digital image scanners. It also doubles up as a photography light box for product and object pictures. Best of all, the light-weight Standscan comfortably folds to fit into any computer bag or briefcase. It doesn't require any special software, drivers or cables. StandScan sold out its first manufacturing run and has increased production to meet anticipated demand.
The StandScan is priced affordably at $19.95 for the basic model. For more information about the StandScan, please visit http://www.standscan.com.
###
ABOUT STANDSCAN
The StandScan was developed by Harry Daswani as a wireless document scanner to help smartphone users produce high-resolution images of documents, photos, etc. that are of the same quality as images created by traditional desktop scanners. StandScan's offices are based in New York, New York. For more information or to purchase a StandScan please visit StandScan.com.