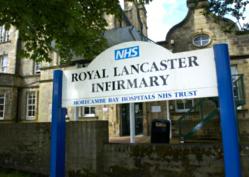 "When I was working there, the situation was totally unsatisfactory. Staff could barely cope with the workload as it was"
Bolton, UK (PRWEB UK) 16 May 2013
A senior nurse that was previously employed at the Royal Lancaster Infirmary has condemned proposals made by the health trust to cut staff at its district hospitals in an interview with the Lancaster Guardian. The district trust has tried to assure people that patient care will not suffer, however public services union, UNISON, have spoken out to say the cuts will be a "disaster". (1)
According to reports sent out by the trust, there are around 250 jobs at risk, covering all professions being worked in the hospital including nurses, clerical staff, midwives etc. This week, a formal consultation into staff roles will be held in order review the positions that staff are holding in a bid to make a saving of £30 million in order to balance out its current deficit as stated in the article. (1)
Asons Executive Suzanne Yates has said "The hospital can't expect to keep up a high standard of patient care with such a massively reduced work force, it's near impossible. There would have to be a complete upheaval in the management of the hospital to make sure patients aren't subjected to substandard care, thus potentially leading to people making claims against the hospital. Going ahead with these hospital job cuts will end in poor patient care".
The senior nurse, Russell Dunkeld, from Morecambe stated in his interview with the Lancaster Guardian that it was "absolutely deplorable" that the hospital was even considering making job cuts, and that it would be impossible to do without risking patient safety and exposing them to high levels of medical negligence. (1)
He continued to say in the interview:
"The trust holds the card up and says that patient safety is top priority, but they go ahead and make cuts anyway.
"If anything goes wrong, they'll just blame the nurses.
"When I was working there, the situation was totally unsatisfactory. Staff could barely cope with the workload as it was". (1)
According to the article Mr Dunkeld left the trust in 2009 after an extensive list of issues forced him to leave. He was made to sign a gagging order by the trust to ensure that he didn't speak out about his concerns of medical negligence, staff malpractice and the shortcoming of management to deal with particular occurrences in the hospital. Despite signing the gagging order, the government have since encouraged staff to speak out and express their views, where it relates to public interest. (1)
Continuing to comment on the situation, Mr Dunkeld said:
"I don't suppose they've looked at the management staff to cut costs, 121 of whom are on over £100,000 per year, amounting to at least £12.1m, or given any mention to the fact that they are still paying Tony Halsall seven staff nurse salaries even though he's no longer working there."
The consultations with staff began on Monday, and will take 45 days to complete.
Regional organiser for UNISON, Tim Ellis, said: "These cuts will worsen acute healthcare in the area. Staff skills will also be reduced so the trust can cut pay. These cuts are a disaster for NHS care in the area." According to Mr Ellis, health staff will be working alongside Clinical Commissioning Groups to oppose the proposals. (1)
Working for Asons, Suzanne Yates continued to say "I totally agree with the views of Russell Dunkeld, in that the hospital shouldn't be considering the mass sacking of hospital staff when others, that aren't necessarily deploying health care to individuals, are continuing to drain the budget on their excessive salaries. Substandard care can be avoided with hiring more staff and spending money giving them better training and resources, not by reducing the work force. This is the kind of behaviour that leads to individuals taking legal action".
The risk of being subjected to medical negligence has the potential to rise with there being less staff able to provide care when need at this hospital. Anyone that is subjected to any form of substandard care is encouraged to seek legal advice from a medical negligence solicitor such as Asons that can give advice on how to seek compensation for any prolonged suffering or loss of earnings that has been incurred as a result.
(1) Lancaster Guardian, 28th April 2013, "Job cuts are a 'disaster for patient care'",
http://www.lancasterguardian.co.uk/news/health/hospital-job-cuts-are-a-disaster-for-patient-care-1-5616952

About Asons Solicitors:
Asons Solicitors is a Bolton-based law practice that specialises in personal injury and industrial disease claims. Founded by brothers Imran Akram and Kamran Akram, Asons Solicitors has developed to become a young and dynamic law firm that delivers practical solutions to clients in times of difficulty. Their continued focus on their staff has seen them awarded with the Investors in People "Gold Award"; which is reflected in the professional and personable approach they take in working with clients. They strive to grow and to develop, and their supportiveness and attention to detail ensures that their clients use them time and again.
For further information contact:
Email: info@asons.co.uk
Website: http://www.asons.co.uk