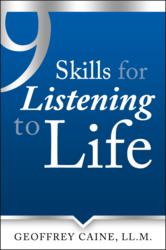 Livingston, NJ (PRWEB) May 01, 2013
Executive Director of Caine Learning and inspiring educator, Geoffrey Caine, is an expert in synthesizing psychology and neuroscience to understanding natural learning. One of his current endeavors is writing an ebook series for the Kindle based on extensive professional research he and his wife, Renate Caine, have done. The first book of the ongoing series, 9 Skills for Listening to Life, is currently available for free from April 30 to May 2.
9 Skills for Listening to Life is an informative and instructional resource for bettering personal and business relationships that all people are a part of. Whether it is how a mother communicates with her child or two coworkers interact in the workplace, Mr. Caine's book provides practical and immediate skills one can implement within one's daily life.
Actively listening and being an engaging partner in the art of communicating can have profound effects on many different facets within one's life; it can improve one's efficiency in the workplace, facilitate one's pursuit of inner peace and success, and create deeper, less superficial relationships at work and at home. Many people may not even know they are poor listeners, which the book successfully addresses and remedies.
Mr. Caine and his publishing partner company, Funderstanding, hope that this 3-day free promotional event will get the cogently written, 31-page Kindle book into as many hands as possible.
Download a free copy and follow Funderstanding on Twitter for more promotional events like this.
About Funderstanding:
Funderstanding is a resource for teachers, parents, and students to stay up to date on education-related issues. The company focuses on innovative and progressive approaches to inspire learning in classrooms as well as homes. Funderstanding is also an ebook publishing partner company, focused on education-related content, which provides complete epublishing services as well as an expertise in ebook marketing and author branding.
Find more detailed information at:
http://www.funderstanding.com