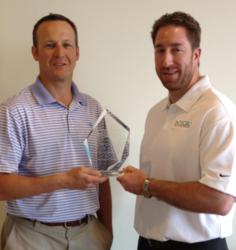 Chicago, IL (PRWEB) May 02, 2013
AFN, an award-winning logistics and supply chain company, has been awarded the "Best in Security" Award for 2012 by CargoNet, the cargo theft database and information sharing division of Verisk Crime Analytics. Verisk Crime Analytics is a unit of Verisk Analytics (Nasdaq:VRSK).
AFN was presented the top award in the intermediary category for companies with less than $1 billion in annual revenue. Various factors were considered as criteria for the award, such as the willingness and ability to commit resources to security, standard operating procedures and best practices, and the extent of utilization of the CargoNet program.
"We're very pleased to recognize AFN's security efforts by selecting it as a 'Best in Security' winner in CargoNet's inaugural awards," said Anthony Canale, general manager, CargoNet. "CargoNet is committed to helping companies like AFN ensure that their customers' shipments arrive safely and intact at their destination. AFN has distinguished itself in the logistics industry and has demonstrated the best practices that protect customers, drivers, and cargo."
CargoNet helps transportation and logistics companies prevent cargo theft and increase recovery rates of stolen merchandise through secure and controlled information sharing among theft victims, their business partners, law enforcement, and the National Insurance Crime Bureau (NICB). Developed in 2009, CargoNet uses case management and analytic functions that enhance the effectiveness of cargo theft task forces. The network also includes training and investigative support for law enforcement, as well as theft prevention services and analytics.
"We're honored to receive this award," said Jared Palmer, general counsel and director of security for AFN. "Our collaboration with CargoNet has helped us further strengthen our overall security program and, in particular, greatly enhances our capability to safely transport high-risk, high-value goods. Our internal cross-functional team deserves a lot of the credit for this award, as they work hard to drive out security threats every day of the year."
About AFN
Serving motor carriers, manufacturers, and retailers since 2003, AFN (formerly known as Advantage Freight Network) is an award-winning leader in freight brokerage, third-party logistics, and transportation management services. We are known for our commitment to client service, our proactive approach to fighting cargo theft, and our expertise in retail compliance. To learn more about AFN, visit http://www.loadafn.com or call 877-LOAD-AFN.
About Verisk Crime Analytics
Verisk Crime Analytics is a leading provider of crime prevention services for retailers, manufacturers, logistics companies, equipment owners, and insurance companies and offers data and analytical support to law enforcement. Verisk Crime Analytics provides a comprehensive suite of data management, analytic, and theft prevention services that include prediction, mitigation, response, and recovery. Verisk Crime Analytics is a unit of Verisk Analytics (Nasdaq:VRSK). For more information, visit http://www.verisk.com/crimeanalytics.